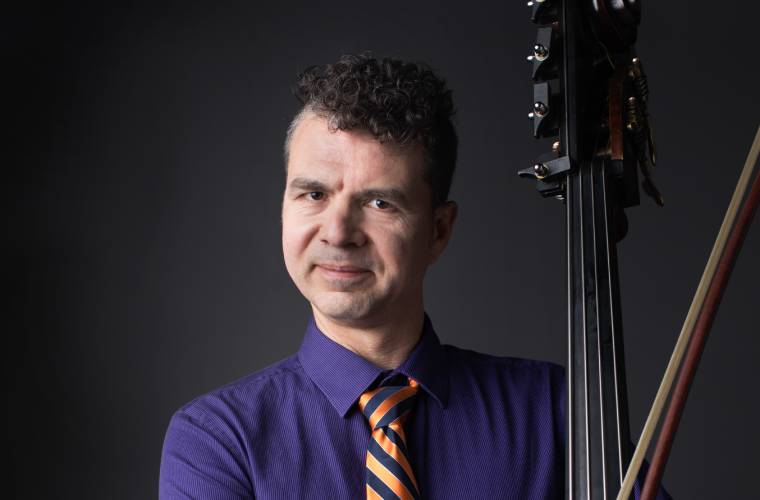 Michael Kurth
Biography
Michael Kurth (b. 1971) has been a member of the Atlanta Symphony Orchestra bass section since 1994. The Orchestra has given world premieres of four of his orchestral works, May Cause Dizziness in 2011 under Roberto Abbado, Everything Lasts Forever in 2013 under Music Director Robert Spano. Prometheus Unhinged in 2015 under Joseph Young, and A Thousand Words in 2016 under Robert Spano. His fifth Atlanta Symphony Orchestra commission premiered in the spring of 2018. 
Kurth serves as Composer-in-Residence for the Riverside Chamber Players of Roswell, GA. Riverside has premiered many of his chamber works, including the string quartet Easy Listening, and two string quintets plus percussion, Opting Out of Irony and Because They Wave Back. In 2013, they premiered his oboe quartet Three Dances for Two Left Feet. In 2014, Riverside premiered two works, Neologisticism and Mythmusic. 
In 2012, Riverside recorded The Music of Michael Kurth: String Quartets, available on iTunes and Amazon. 
In December 2013, The Florida Orchestra premiered his Variations on an Old French Carol, and both the Houston Symphony and the Atlanta Symphony performed the work in December 2014. 
In May 2016, Spano led the Melbourne Symphony in Everything Lasts Forever.
Kurth has been commissioned twice by the Atlanta Chamber Players. Other groups that have performed his works include the Atlanta Young Singers, the Peachtree String Quartet, the Franklin Pond String Quartet, Concert Artists Guild-award-winning violist Jennifer Stumm, the Georgia Sinfonia, the Atlanta Community Symphony Orchestra, the Georgia State University Wind Ensemble, and modern dance company gloATL. 
He serves on the faculty of Emory University as Artist Affiliate in Double Bass. He studied bass with Harold Robinson at Peabody Conservatory in Baltimore and received his Bachelor of Music degree with honors. He served as Co-Principal Bass of the New World Symphony in Miami during the 1993-94 season before joining the Atlanta Symphony Orchestra. 
Kurth and his wife enjoy folk art, hiking, road trips around the south, and spending time with their adopted rescue dogs.