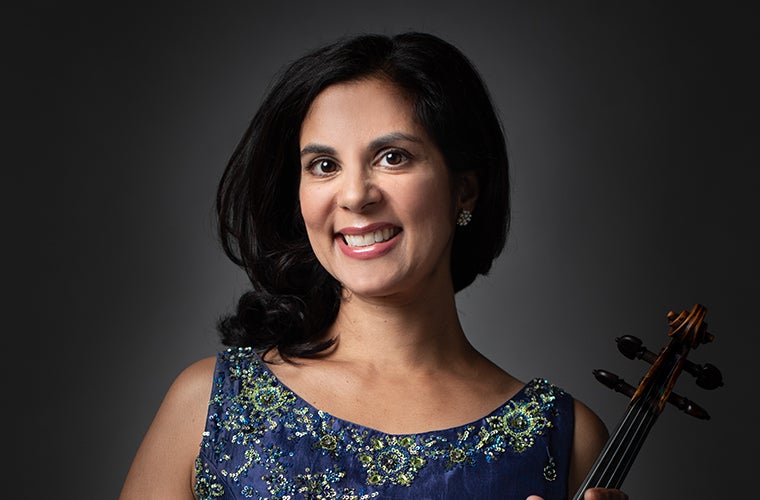 Sheela Iyengar
Biography
Born in Montreal, Quebec, violinist Sheela Iyengar moved to the Atlanta area at the age of 8 and began her violin studies at the age of 11 through the public school system. She began taking private lessons some years later and was soon accepted to the Atlanta Symphony Youth Orchestra. After winning numerous local awards and competitions, she went on to study at Indiana University and The Cleveland Institute of Music, where she earned her B.M. in Violin Performance in 1994. Her teachers included Linda Cerone and the legendary Bernhard Goldschmidt, late Principal Second Violin of the Cleveland Orchestra.
Ms. Iyengar has performed as a substitute violinist for the Atlanta Symphony Orchestra since 1997, including a one-year position in 1998-99 in the first violin section. She has also played in the Atlanta Opera Orchestra and is a founding member of the Amadeus String Ensemble. During the summer months, Ms. Iyengar performs at The Grand Teton Music Festival in Jackson Hole, Wyoming.
Sheela is passionate about passing down the art of violin playing and the love of music to the next generation through her violin studio. Many of her students have gained acceptance to elite youth orchestras, summer music festivals, and college scholarships.
Sheela is married to ASO Associate Principal Second Violin Sou-Chun Su. They have two children who are also musicians. Her daughter Julia is a violinist studying music at Rice University, and her son Joshua is a pianist and is in high school.
Ms. Iyengar plays on a 1769 Joseph Gagliano violin.
What year did you join the ASO?
2019
Why did you choose your instrument?
I thought it would be "easy" but that proved wrong. I also liked the sound of the violin.
What's the most interesting or difficult facet of your instrument?
To not let techniques such as changing the bow, shifting, and crossing the string interfere with the expression of the music.
Earliest musical memory?
Loving a cassette tape of the Beethoven Violin Concerto.
Earliest musical hero?
Itzhak Perlman
Most memorable/favorite ASO memory or moment?
Carnegie Hall 2011 and 2016
Most interesting or unusual place you've played a concert?
In a horse park