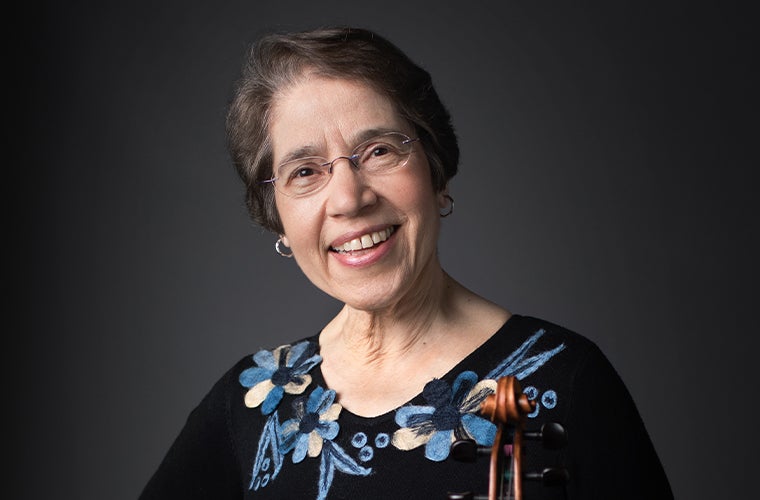 Sharon Berenson
Piano
Biography
Sharon Berenson was a violinist with the Atlanta Symphony Orchestra from 1975–2022. In addition to playing the violin, she is also a professional pianist. She frequently plays the keyboard on the Orchestra's Concerts for Young People, Pops, and Family Concerts. Berenson often accompanies her colleagues and works with many young musicians as an accompanist and coach. She regularly performs as a recital pianist for many teaching studios in Atlanta.
In 1999 she was a staff accompanist for the National Flute Association National Convention held in Atlanta. She has also been the pianist for the ASO's Talent Development Program since it started in 1993.
A native of Wisconsin, she received her Bachelor of Music degree from the University of Illinois and her Master of Music degree from Indiana University.
What year did you join the ASO?
1975
Favorite composer(s)?
Rachmaninov, Prokofiev
What do you do in your free time outside of work?
I'm also a professional pianist and I enjoy working as a piano accompanist for a lot of young talented students (many of whom study with my colleagues in the symphony).
Do you come from a musical family?
My sister is a professional pianist and recently retired as professor of piano at Ohio University.
Earliest musical hero?
Isaac Stern--I wore out my record of the Mendelssohn and Tchaikovsky Violin Concerto.
Most memorable/favorite ASO memory or moment?
Hearing Jessye Norman sing Wagner/Liebestod from Tristan and Isolde. What a wonderful experience to be in the orchestra experiencing that amazing voice up close and personal.