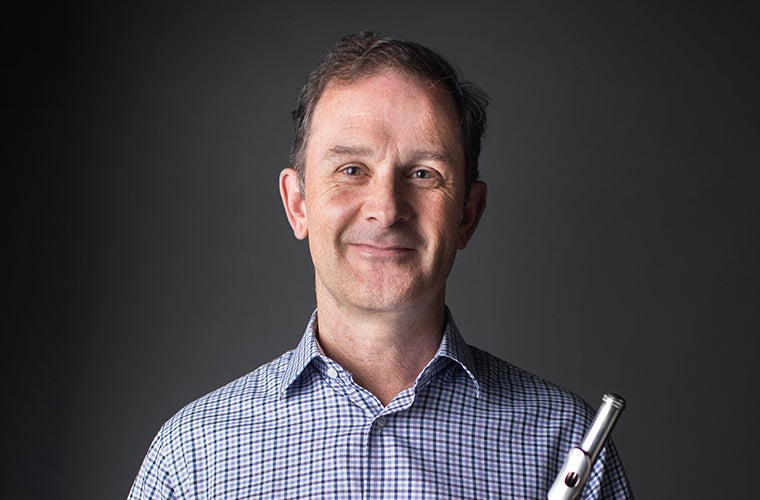 Robert Cronin
Associate Principal Flute
Biography
Associate Principal Flute, Robert Cronin, has been with the Atlanta Symphony Orchestra since 1999.
Cronin received his Bachelor of Music degree from Northwestern University in Chicago, where he studied with Walfrid Kujala. Cronin went on to win the Principal Flute position in the Knoxville Symphony where he also obtained his Masters of Music degree in Composition from the University of Tennessee. He has also held one-year positions in the Kansas City Symphony and the Milwaukee Symphony.
Cronin is active as a composer. He writes music for a variety of instrumentations but has focused on works for flute including Concerto for Flute and Chamber Orchestra (2009), Sonata for Flute and Piano (2010) and Five Bagatelles for Alto Flute and Cello (2016) premiered last season at the ASO Pre-Concert Chamber Music Series. The National Flute Association commissioned Cronin to write a work for flute and piano which was used as a required work for the High School Artist's Competition. The piece that resulted was an homage to his teacher, Mr. Kujala, called Off the Wall. Information and recordings of these and other of his works can be heard at www.robertcronincomposer.info.
Since 2007, Cronin has owned and managed a business that produces custom concrete countertops for commercial and residential applications called CounterIntelligence of Atlanta. Examples of his work and more information may be found at counterintelligenceatlanta.com.
Cronin has two beautiful daughters, is an avid golfer and is fluent in Swedish.
What year did you join the ASO?
1999
Favorite composer(s)?
Shostakovich
What's the most interesting or difficult facet of your instrument?
Breath control. Always have to be conscious of that.
What do you do in your free time outside of work?
I have a business where I make concrete countertops. Opposite work for sure to flute playing.
Earliest musical hero?
James Galway.
What's your favorite Atlanta hidden treasure?
It's architecture. So much to see. The stories behind the history of Atlanta are so rich.
Most memorable/favorite ASO memory or moment?
Bach's Matthew Passion with Spano. Mesmerizingly beautiful to play and experience.