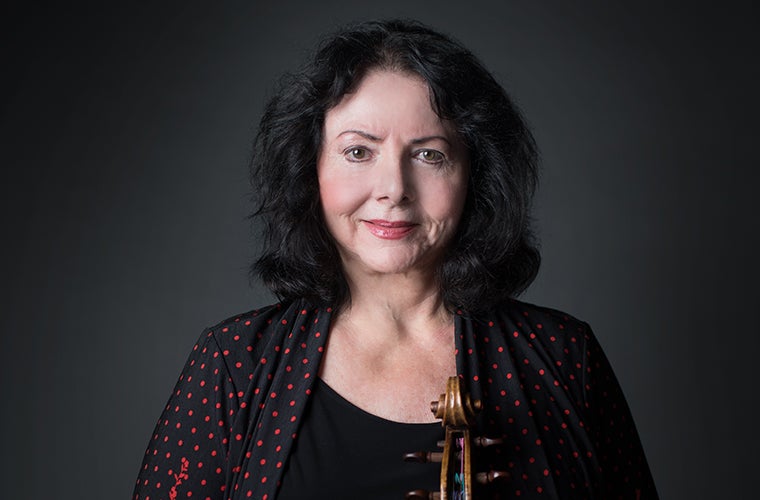 Marian Kent
Biography
Violist Marian Kent has been a violist with the Atlanta Symphony Orchestra (ASO) since 1972.
She was an original member of the Atlanta Chamber Players, with whom she played for several years, and has played in the Spoleto Festival in Italy and the Tanglewood Festival, among others.
Born in Budapest, Hungary, Ms. Kent is the daughter of a Nazi concentration camp survivor. She escaped to the West with her family during the 1956 Hungarian revolution. After two years in a refugee camp in Austria, they came to the U.S. and settled in Los Angeles.
Ms. Kent studied at the California Institute of the Arts and on scholarship at the Juilliard School, where she earned her performer's diploma. While playing in the American Symphony Orchestra under Leopold Stokowski, she pursued further studies with William Lincer, Walter Trampler, and Burton Fine.
What year did you join the ASO?
1972
Why did you choose your instrument?
It was by accident. My mother wanted me to study piano in school, but that wasn't available. So, the principal of the school enrolled me in string class. I had one minute to choose which instrument I wanted to play. Everyone wanted to play violin, the cello was too big (and the bass was even bigger). So that left the viola.
What's the most interesting or difficult facet of your instrument?
I love the lowest string on the viola (the C string) for its unique sound.
Cats or dogs?
Dogs--I have a rescue dog that is a chihuahua-dachshund mix named Dolce (because she's sweet).
Earliest musical hero?
Jascha Heifetz
Most memorable/favorite ASO memory or moment?
Playing under the baton of Franz Welser-Most (currently music director of the Cleveland Symphony).