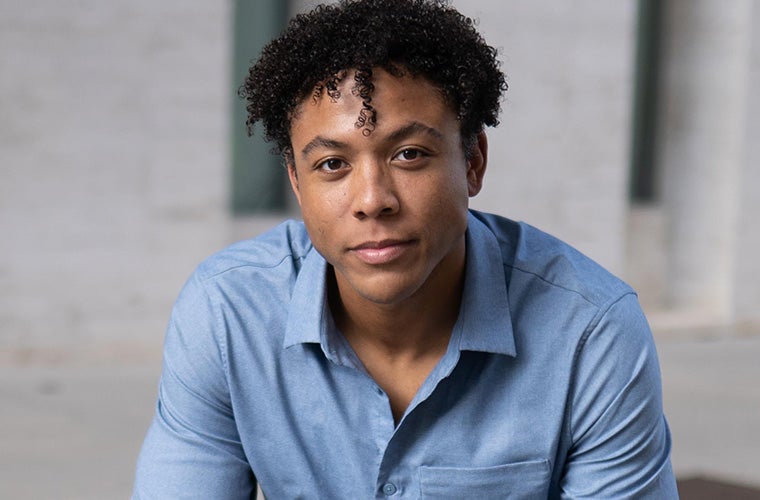 Biography
Praised in Opera News as "a gentle actor and elegant musician" and in The Wall Street Journal for his "mellifluous baritone," baritone Justin Austin has been performing professionally since the age of four. Born in Stuttgart, Germany, to professional opera singer parents, Mr. Austin began his singing career as a boy soprano performing at venues such as Teatro Real, Bregenzer Festspiele, Lincoln Center, and the John F. Kennedy Center for the Performing Arts. While working with directors such as Götz Friedrich and Tazewell Thompson, he was able to realize early on his love for music and performance.
During the 2021/22 season, Mr. Austin makes his house debut at the Metropolitan Opera as Marcellus in the company premiere of Brett Dean's Hamlet, while also covering the leading role of Charles Blow in Terence Blanchard's Fire Shut Up In My Bones. He joins Lyric Opera of Chicago covering the role of Riolobo in Daniel Catán's Florencia en el Amazonas, stars as George Armstrong in Lynn Nottage's and Ricky Ian Gordon's Intimate Apparel at Lincoln Center, and joins Des Moines Metro Opera as Thomas McKeller in Damien Geter and Lila Palmer's American Apollo. In addition, he returns to Carnegie Hall as the title role in Mendelssohn's Elijah with the Oratorio Society of New York, joins the New York Festival of Song for their debut concert at Little Island in New York City, joins the Cecilia Chorus at Carnegie Hall as the baritone soloist in Margaret Bonds' Ballad of the Brown King, and presents a solo recital at the Park Avenue Armory with pianist Howard Watkins.
In the 2020/21 season, Mr. Austin was featured in concert with the Metropolitan Opera, Mistral Music, Glimmerglass Festival, Opera Maine, Voices of Ascension, Moab Music Festival, and New York Festival of Song. He also starred as Captain Macheath in a film adaptation of Weill's The Threepenny Opera produced by City Lyric Opera, made his debut at Washington National Opera as Thomas McKeller in the world premiere of American Apollo by Damien Geter and Lila Palmer, and debuted at the Bard SummerScape Festival as Mordred in Chausson's Le roi Arthus. In recital, he made debuts with Los Angeles Opera, the Hamburg International Music Festival, Lakes Area Music Festival, and Opera Saratoga, while also joining IDAGIO for online concerts at the Global Concert Hall. Mr. Austin had also been scheduled to join the Metropolitan Opera for his house debut in Jake Heggie's Dead Man Walking, directed by Ivo van Hove and conducted by Yannick Nézet-Séguin, and to perform The Novice's Friend in John Dexter's production of Billy Budd.
In the 2019/20 season, Mr. Austin made his return to the New York Festival of Song at the Kaufmann Music Center, sang the leading role of Older Jim in Tom Cipullo's Glory Denied at the Penn Square Music Festival, and joined the principal roster of the Metropolitan Opera in their new production of Porgy and Bess, directed by James Robinson. He had been scheduled to return to the Bayrerische Staatsoper for his role debut as Mel in Michael Tippett's The Knot Garden and as Bello in the revival of Andreas Dresen's production of La fanciualla del West.
Highlights of previous seasons include solo debuts at Carnegie Hall, the Glimmerglass Festival, the Strathmore Music Center, and with the St. Louis Symphony Orchestra, Copland House, Bayerische Staatsoper, and Lincoln Center. In the 2017-2018 season, Mr. Austin was a Resident Artist at Opera Theatre of St. Louis, and during the summer of 2018, remained with the company as a solo artist, featured in concert, recital, and on the mainstage singing the role of Cal in the award-winning production of Marc Blitzstein's Regina, directed by James Robinson and conducted by Stephen Lord. During the summer of 2016, Mr. Austin created the role of Pyarelel Kaul in the critically acclaimed world premiere of Jack Perla's and Rajiv Joseph's Shalimar the Clown at Opera Theatre of St. Louis, and more recently was featured in the same role on the commercial recording of the work released in 2018.
As a multifaceted musician, Mr. Austin performs a wide range of repertoire, from jazz, R&B, and musical theatre, to opera and oratorio. He has collaborated with multiple groups and artists such as Aretha Franklin, The Boys Choir of Harlem, Mary J. Blidge, Elton John, Lauryn Hill, The Roots, 30 Seconds to Mars, John Cale, Ricky Ian Gordon, Damien Sneed, Kanye West, and jazz legends Reggie Workman, Hugh Masekela, and Wynton Marsalis.
Mr. Austin strongly believes in utilizing his artistry to benefit music programs, new music projects, and community services around the world. In order to accomplish this, he works with organizations such as MEND (Meeting Emergency Needs with Dignity), QSAC (Quality Services for the Autism Community), Holt International, and St. Mary's Children's Hospital to construct and perform benefit concerts. The proceeds of these projects supply emergent living essentials to those in need. Inspired by the importance of new music and collaboration, Mr. Austin has performed and recorded operatic, song, and oratorio world premieres by Wynton Marsalis, Avner Finberg, M. Roger Holland, Jack Perla, Peter Andreacchi, Damien Sneed, Odeline de la Martinez, and Ricky Ian Gordon.
Justin Austin is a proud graduate of the Choir Academy of Harlem, LaGuardia Arts, Heidelberg Lied Akademie, and the Manhattan School of Music, having earned Bachelor of Music and Master of Music degrees. Among his accolades are awards from organizations such as The Recording Academy, NAACP, the George London Foundation, Opera Ebony, the Gerda Lissner Foundation, the Manhattan School of Music, NANM, the Choir Academy of Harlem, and LaGuardia Arts. He is under the tutelage and mentorship of Catherine Malfitano.

Image Credit: Gillian Riesen