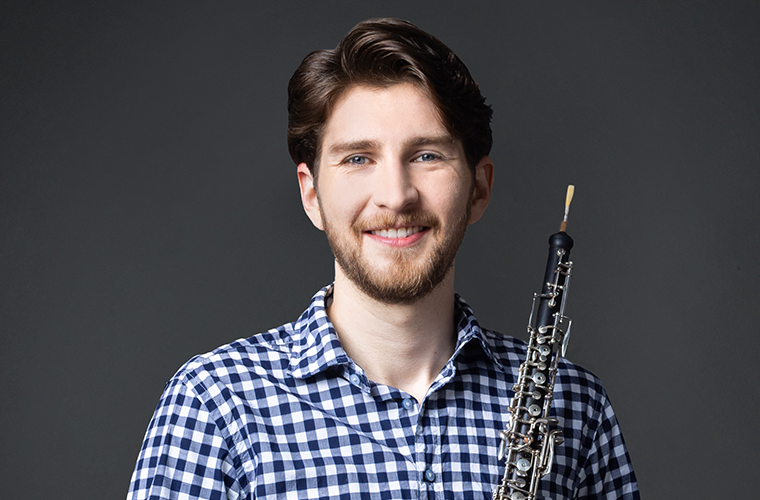 Jonathan Gentry
Oboe
Biography
Jonathan Gentry joined the Atlanta Symphony Orchestra as second oboe at the start of the 2023/24 season. Prior to this appointment, he held the position of principal oboe with both the Sarasota Orchestra and the Louisiana Philharmonic. He has also appeared as Guest Principal with the Florida Orchestra, as well as substitute with the Fort Worth and San Diego Symphonies.

As a soloist, he has performed the Haydn Sinfonia Concertante with the National Repertory Orchestra. Other concerto appearances include the Vaughan-Williams Concerto with the East Texas Symphony, Pasculli's "La Favorita" Concerto with the Brazos Valley Symphony, and the Mozart Concerto with the Plano Symphony and the Boston Philharmonic Youth Orchestra. As a chamber musician, he was a founding member of Tangent Winds, a New York-based wind quintet, which placed third in the 2018 Fischoff National Chamber Competition.

Jonathan holds degrees from the New England Conservatory and The Juilliard School. He has attended numerous festivals such as the Verbier Festival, the National Repertory Orchestra, the Music Academy of the West, the Aspen Music Festival and School, the Round Top Festival Institute, and the National Orchestral Institute. He is especially grateful for the many transformative teachers in his life, and has received tutelage from John Ferrillo, Nathan Hughes, Elaine Douvas, Erin Hannigan, Linda Strommen, Anne Marie Gabriele, and Scott Hostetler.
Do you have any previous Atlanta connections?
Fun Fact: Zachary Boeding (fellow ASO oboist) used to be my high school camp counselor at the Boston University Tanglewood Institute!
What is your most prized possession?
My collection of niche perfumes… my useless talent is that I can smell a fragrance and recognize many of the individual notes.
If you could have one superpower, what would it be?
I think it would be great if I could make oboe reeds telepathically.
What's a piece you think the ASO should perform?
Anything by Maurice Ravel!