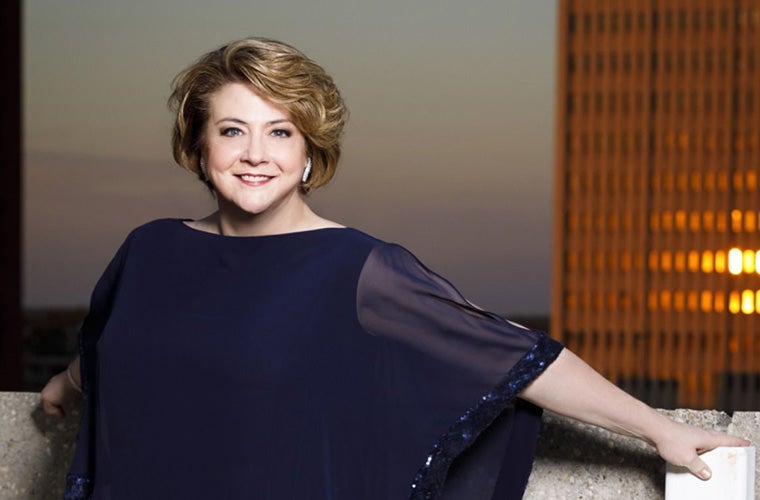 Witch
Elizabeth Bishop
Mezzo-Soprano
Biography
American mezzo Elizabeth Bishop begins the 2019/20 season with her return to The Metropolitan Opera in the role of Marcellina Le Nozze di Figaro. The artist travels to Texas to revive the role of Herodias Salome with Dallas Symphony Orchestra, a role she also sings at Bard College with Leon Botstein. She joins Park Ridge Civic Orchestra for performances of Mahler's Das Lied von der Erde, and with The Choral Arts Society of Washington she features as soloist for Copeland's In the Beginning and the Brahms Alto Rhapsody.

Last season Miss Bishop appeared as a soloist in Beethoven's Ninth Symphony with New Jersey Symphony Orchestra, and at Lyric Opera Chicago she won hearts in the role of Madame de la Halti Cendrillon. She returned to The Metropolitan Opera for performances as Second Norn/Fricka (c)/Waltraute (c) Der Ring des Nibelungen.

At home in Washington DC, Miss Bishop has many appearances to her credit, both with Washington Concert Opera, where she sang Principessa Adriana Lecouvreur, Santuzza Cavalleria Rusticana and Sara Roberto Devereux, and at Washington National Opera where she has a regular presence and appeared as Fricka Das Rheingold and Die Walküre, Sieglinde Die Walküre, Brang ne Tristan und Isolde, Second Norn Gotterdammerung, Mere Marie Dialogues of the Carmelites, Meg Page Falstaff, Gertrude Hamlet, Eboli Don Carlo, the leading role of the Marquise de Merteuil in Conrad Susa's The Dangerous Liaisons, Suzuki Madama Butterfly, and Emilia Otello, among other appearances.

Successes elsewhere include Mary Der fliegende Hollander at Cincinnati Opera, at Portland Symphony the role of Judith Bluebeard's Castle; concert performances of Beethoven's Ninth Symphony with BBC Scottish Symphony Orchestra under Donald Runnicles and at the Grand Teton Music Festival, Verdi's Requiem with the Baltimore Symphony Orchestra, Brangane Tristan und Isolde in concert at North Carolina Opera.

Miss Bishop enjoys a long relationship with the Metropolitan Opera which began with her win at the National Council Auditions in 1993; she recently covered Karita Mattila as Kostelnichka Jenufa, appeared as Teresa La sonnambula, Enrichetta I Puritani, Fenena Nabucco, Venus Tannhauser, Mere Marie Dialogues des Carmelites, Second Norn Gotterdammerung, in the title role Iphigenie en Tauride and in its productions of War and Peace. Additionally, she appeared in recent productions of Les Troyens and Das Rheingold.

A former Adler Fellow and member of its Merola Opera Program, Ms. Bishop returned to San Francisco Opera to sing Tisbe La Cenerentola, the Mother Harvey Milk (recorded for Teldec), Antonia's Mother Les Contes d'Hoffmann, and Second Lady Die Zauberflote. Most recently she joined the company for the role of Fricka in their celebrated Ring productions of Das Rheingold and Die Walküre. Other featured appearances include multiple engagements with Los Angeles Opera: Frau Marthe Rull Der zerbrochene Krug, Third Zofe Der Zwerg, and Grandmother Burjya Jenufa.

At Pittsburgh Opera she sang Mere Marie, Ma Joad The Grapes of Wrath and Amneris Aida which she also sang at Atlanta Opera, and in concert with Boston Symphony Orchestra. She appeared as Elizabeth Proctor The Crucible with Mobile Opera, Waltraute Gotterdammerung at Dallas Opera, and Offred in the North American premiere of Poul Ruder's The Handmaid's Tale with Minnesota Opera.

The artist's concert repertoire is extensive; she sang Beethoven's Ninth Symphony with both the Atlanta Symphony Orchestra conducted by Robert Spano, and the Philadelphia Orchestra under Charles Dutoit. Her Mahler repertoire includes his Second, Third and Eighth Symphonies, Das Lied von der Erde, Lieder eines fahrenden Gesellen; Wagner compositions include Wesendonck Lieder, Liebestod from Tristan und Isolde and Magdalene Der Meistersinger on the concert platform. She is regularly invited for Berlioz's La Damnation de Faust, Te Deum and Les Nuits d'ete  and often sings Mozart's Coronation Mass, Requiem and Mass in C Minor. Other concert work includes Bach's Magnificat, Mendelssohn's Elijah and Lobgesang, Handel's Messiah, Durufle's Requiem, Tippett's A Child of Our Time, Cantaloube's Songs of the Auvergne and the Requiem of Liegeti and of Verdi.

Conductors with whom Miss Bishop sings include Jacques LaCombe, Roger Norrington, Nicholas McGegan, Mark Elder, Carlo Rizzi, and Esa-Pekka Salonen to name a few.