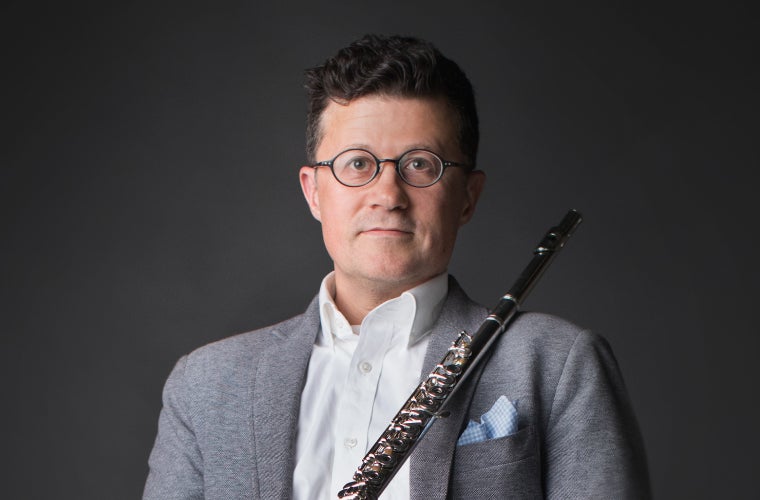 C. Todd Skitch
Flute
Biography
Canadian born flutist C. Todd Skitch joined the Atlanta Symphony Orchestra (ASO) in September 2013. He is also a member of the Atlanta Chamber Players and is the Artist-in-Residence at Kennesaw State University.
Skitch started his orchestral career with the Memphis Symphony Orchestra in 1997 after completing degrees at the University of Toronto and McGill University in Montreal, Quebec, where his principal teachers were Nora Shulman and Timothy Hutchins.
Skitch's distinguished career as a teacher and symphony musician includes many credits: an original member of IRIS Orchestra with Michael Stern; Bellingham Festival of Music; Memphis Chamber Music Society; Tanglewood Music Center; Blossom Music Festival at Kent University, where he received the Maurice Sharp Award for outstanding flute applicant; Spoleto Festival USA; and the National Repertory Orchestra.
While in Memphis, Skitch served as Chair of the Board of Directors and Orchestra Manager for the Memphis Youth Symphony Program. He also specialized in preparing young flutists for All-State competitions and college auditions.
Skitch has been heard on WABE Atlanta, CBC Radio-Canada, WKNO-Memphis, and as a soloist with the Memphis Symphony and IRIS Orchestra. In 2003, Skitch joined the Canadian group Ensemble Noir on a historic, three-nation African tour to Ghana, Nigeria, and South Africa.
Skitch plays a hand-made solid silver Jack Moore flute, made in Elkhart, Indiana, in the mid-1980s.
What year did you join the ASO?
2014
What's the most interesting or difficult facet of your instrument?
The great thing about the flute is that you can put any note virtually anywhere, in terms of pitch) because it is so flexible. The bad thing about the flute is that you can put any note virtually anywhere... (those with a good ear will understand what I'm saying)
What do you do in your free time outside of work?
Apart from the ASO, I also teach flute at KSU and privately at my home, so I really don't have a lot of free time outside of work. That being said, things I can't live without a gym membership (LA Fitness), cats, New Yorker Magazine, Comic Book Day (Wednesdays), World Of Warcraft.
Cats or dogs?
Cats. One must be independent.
Do you come from a musical family?
Not in an orchestral sense, although my great uncle was a concert pianist in Toronto. Everyone played an instrument, and everyone was expected to try taking music lessons when young. My maternal grandfather was a fiddler, but he only played by ear and didn't read music.
Earliest musical memory?
Being chosen to attend the "Great Gathering" hosted by the Toronto Symphony in 1987. This concert featured the most famous international superstars at the time. I grew up in a small city (Peterborough) to the northeast of Toronto so being chosen as the music student from Peterborough to attend this monumental concert was a really, really big deal.