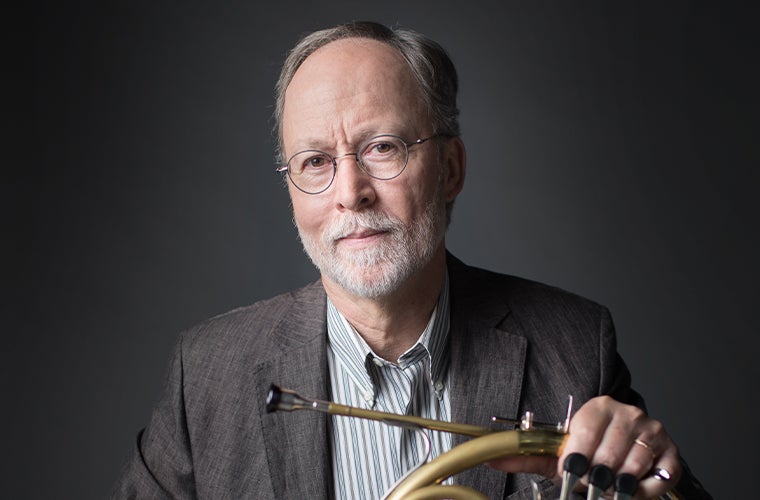 Bruce Kenney
Horn
Biography
Bruce Kenney joined the Atlanta Symphony Orchestra (ASO) horn section in 1985.
He is President of the Atlanta Federation of Musicians, Local 148-462 of the American Federation of Musicians. He has long been active in ASO cross-constituent planning and negotiating. 
Kenney studied horn in Houston with Caesar LaMonaca, Jay Andrus, and Thomas Bacon, who were all members of the Houston Symphony. While certified in Texas to teach public school instrumental music, he chose a career in performing after graduation from the University of Houston. He has been a member of the Houston Ballet Orchestra, Texas Chamber Orchestra, Texas Opera Theater, and Houston Grand Opera; positions which included extensive touring in the U.S. and Canada. 
Kenney is an avid guitarist with an interest in all styles and has served the Orchestra in that capacity on occasion, including performances at the Ravinia Festival and Carnegie Hall. He currently serves on the board of the Atlanta Guitar Guild.  
As a horn player, he enjoys playing woodwind quintets and putting the low notes in the orchestral horn chords.
What year did you join the ASO?
1985
What's on your ASO repertoire bucket list?
I would like to play the James Taylor show again! He autographed my copy of Sweet Baby James at the Fox Theater in 1999. The classical repertoire is always satisfying; I just want to be of whatever we're playing!
Why did you choose your instrument?
The band director needed horn players. Really.
What do you do in your free time outside of work?
Relax with my guitar.
Most memorable/favorite ASO memory or moment?
Beethoven 9 in Berlin 1988. Also, my first concert as a new member in September 1985.
Most interesting or unusual place you've played a concert?
I sang Dylan's "It Ain't Me, Babe" at the wedding of a friend. (In jest- he'd sworn he would never marry again and would sing that song to control himself.)