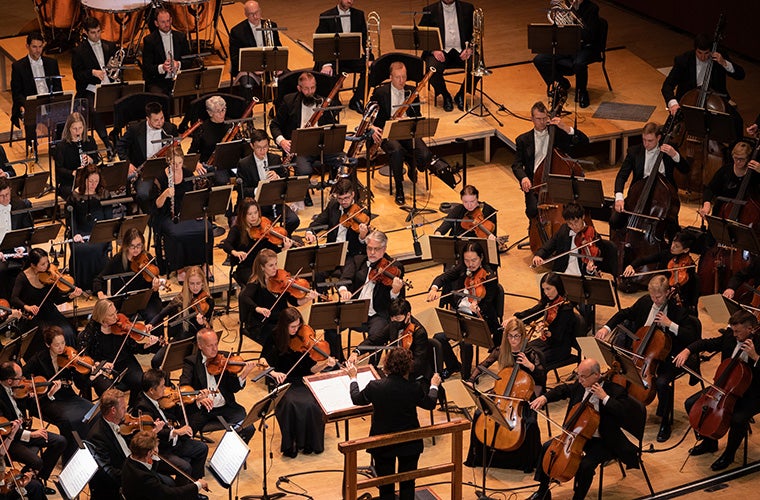 Atlanta Symphony Orchestra
Biography
The Atlanta Symphony Orchestra (ASO) is in its 78th season, with Nathalie Stutzmann as only the fifth Music Director in the history of the Orchestra and the only woman to ever hold the position. Maestro Stutzmann will continue the ASO's mission of bringing new and exciting composers and guest artists to Atlanta.
The ASO is one of the leading orchestras in the United States, performing more than 150 concerts each year from the Delta Classical, Movies in Concert, Family Concert, and Coca-Cola Holiday series, as well as the Atlanta Symphony Hall LIVE concerts and many community and education concerts.
In addition, the ASO performs with the 200+ voice, all-volunteer ASO Chorus, originally founded in 1970 by Robert Shaw, and currently under the direction of Norman Mackenzie. The Chorus was featured on nine of the ASO's Grammy®-Award winning recordings.
The ASO remains dedicated to music education through its engaging education initiatives, the Atlanta Symphony Youth Orchestra (ASYO), now in its 49th year, and the Talent Development Program (TDP), one of the longest-running musical education diversity programs in the country.
The Orchestra continues to record regularly on its in-house label, ASO Media, further demonstrating the Orchestra's commitment to celebrating classical masterworks while continuing to perform, commission, premiere and record with some of today's leading composers. During the ASO's history with Telarc, the Orchestra and Chorus have recorded more than 100 albums and won 27 Grammy® Awards in categories including Best Classical Album, Best Orchestral Performance, Best Choral Performance and Best Opera Performance.