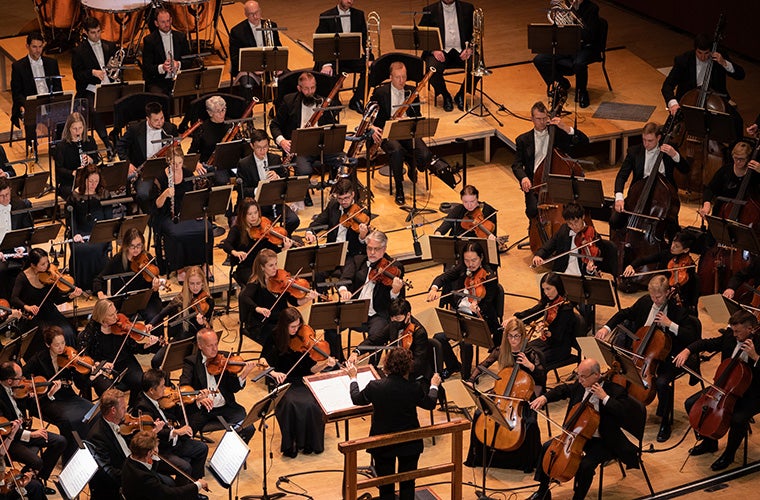 Atlanta Symphony Orchestra
Biography
Under the leadership of Music Director Nathalie Stutzmann, the Atlanta Symphony Orchestra (ASO) offers live performances, media initiatives and learning programs that unite, educate and enrich our community through the engaging and transformative power of orchestral music experiences.

Now in its 79th season, the ASO engages the diverse international community of our city, bringing people together in harmony – including our youngest citizens, with extensive opportunities for youth and families to fall in love with music. Two hallmark education programs celebrate anniversaries this season: the Atlanta Symphony Youth Orchestra celebrates 50 years, and the Talent Development Program – one of the longest-running musical education diversity programs in the country – turns 30.

The Orchestra's range and depth are featured in more than 150 concerts each year, including the flagship Delta Classical Series, Movies in Concert, Family Concerts, Coca-Cola Holiday series and many community and education concerts. The ASO presents many vibrant, wide-ranging events and artists through its Delta Atlanta Symphony Hall Live presentations. Outside of the concert hall, the ASO's Behind the Curtain video concert series enables the Orchestra to reach audiences beyond city limits.

The ASO performs with the world-renowned 200+ voice, all-volunteer ASO Chorus, originally founded in 1970 by Robert Shaw, and currently under the direction of Norman Mackenzie. The Chorus is featured on nine of the ASO's 27 Grammy® Award-winning recordings.