Day of the Dead Festival Announcement
Day of the Dead Festival Announcement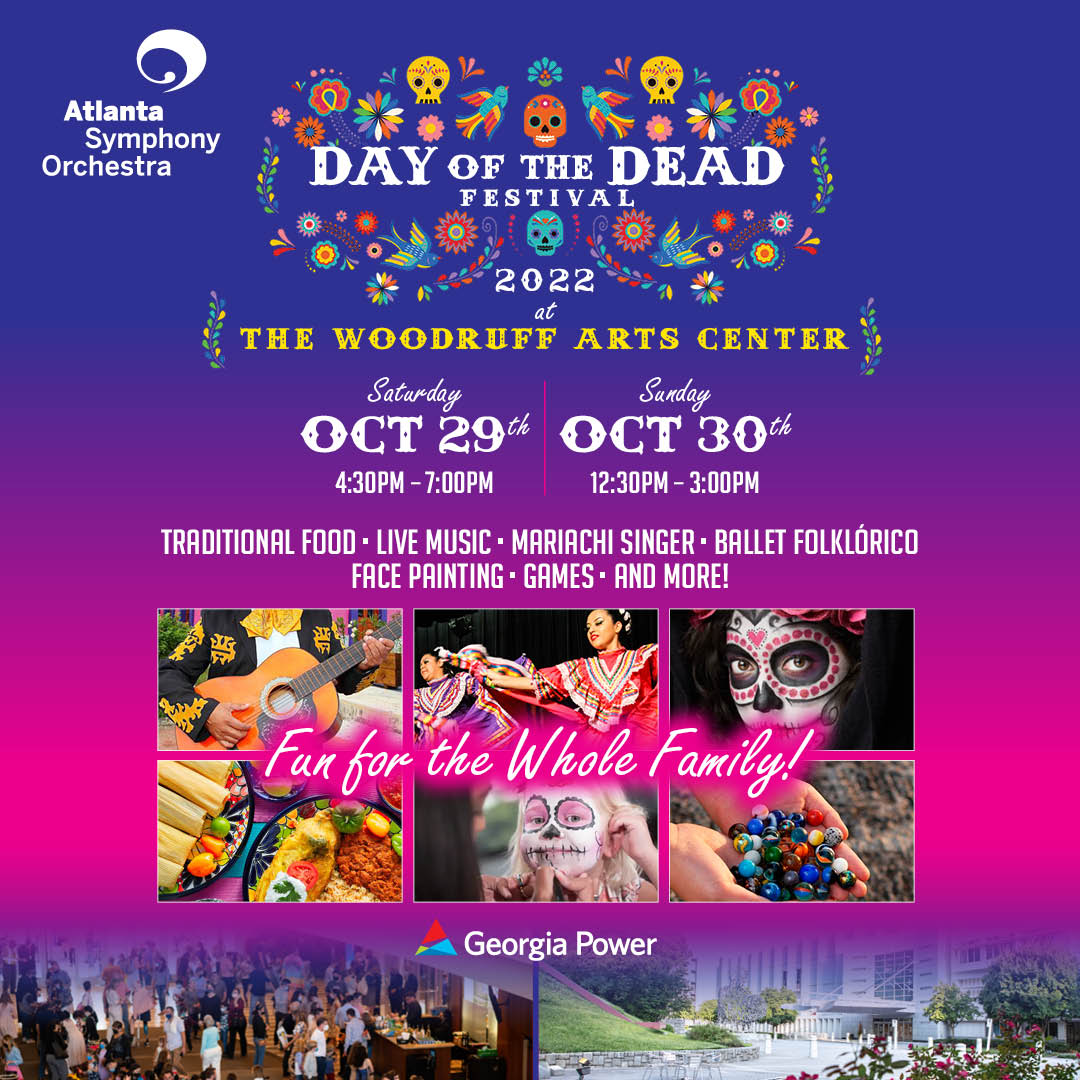 THE ATLANTA SYMPHONY ORCHESTRA HOSTS FREE DAY OF THE DEAD FESTIVAL
OCTOBER 29 AND 30 AT WOODRUFF ARTS CENTER

ATLANTA – The Atlanta Symphony Orchestra (ASO) is hosting a family-friendly Day of the Dead Festival on Saturday, October 29, from 4:30pm – 7:00pm, and Sunday, October 30, from 12:30pm – 3:00pm at The Woodruff Arts Center. The festival is open to the public and will include live music, mariachi performance, Ballet Folklórico, stilt walkers, face painting, altar exhibition, traditional Mexican games and representation from various Latin American community organizations. There will also be themed food trucks with traditional Mexican food options available for purchase. All activities will take place on Callaway Plaza and inside the Memorial Arts Building (1280 Peachtree St. NE, Atlanta GA 30309) on The Woodruff Arts Center campus.
The festival precedes Disney and Pixar's Coco in Concert, part of the ASO's Movies in Concert series. Admission to the festival is free, but advanced ticket purchases are required for both performances. Coco in Concert will take place in Atlanta Symphony Hall at 7:00pm on Saturday and 3:00pm on Sunday. Performances will feature the full film displayed on a 40-foot screen above the stage as the soundtrack is played live by the Atlanta Symphony Orchestra. The film's dialogue will be in English and will include Spanish subtitles. Tickets for Coco in Concert can be purchased at aso.org/movies and ticketmaster.com.
The Day of the Dead (el Día de los Muertos) is a traditional Mexican holiday that takes place between October 31 and November 2, when it is believed the souls of departed family members can return to eat, drink, dance, and celebrate with their families.
Georgia Power is the proud sponsor of the Day of the Dead festival. A special thanks to the following organizations for their involvement: Consulado General de México en Atlanta, Georgia Hispanic Chamber of Commerce, Hispanic Young Professionals & Entrepreneurs, Institute of Mexican Culture, Ecuadorian-American Chamber of Commerce, Casa de La Cultura - Atlanta. Festival production provided by Danceando Promotions.
About Danceando Promotions
Danceando Promotions was founded in Atlanta, GA in 2005. Originally from the gorgeous state of Veracruz, Mexico, Antonio Rodríguez and Lizbeth Cárdenas founded "El Ballet Folklórico (DANCE_ando)" with the goal to demonstrate the Mexican culture and to showcase the Mexican Folklore through the strength, talent and youthfulness of its dancers. Danceando Promotions offers different showcasing services including culture, art, entertainment, live music, etc.
About the Atlanta Symphony Orchestra
Celebrating its 78th season, the Atlanta Symphony Orchestra continues to affirm its position as one of America's leading orchestras with excellent live performances, renowned guest artist features and engaging education initiatives. As a cornerstone for artistic development in the Southeast, the Atlanta Symphony Orchestra performs a full schedule of more than 150 concerts, including educational and community concerts, each year for a combined audience of more than a quarter-million people.

---
LA ORQUESTA SINFÓNICA DE ATLANTA CELEBRA DÍA DE MUERTOS
OCTUBRE 29 y 30 EN EL WOODRUFF ARTS CENTER
ATLANTA - La Orquesta Sinfónica de Atlanta (ASO) celebra el Día de Muertos, con un festival de carácter familiar, durante los días sábado 29 de octubre, de 4:30pm a las 7:00pm y domingo 30 de octubre de 12:30pm a las 3:00pm. El festival está abierto al público en general, e incluirá música en vivo, música de mariachis, bailes folklóricos, mojigangas, pintas caritas, exhibición del tradicional altar, juegos tradicionales mas con la representación de varias organizaciones de nuestra comunidad Latinoamericana. También tendremos "food trucks" a la venta con comida típica mexicana. Todas las actividades se llevarán a cabo en el Callaway Plaza y adentro del edificio del Memorial Arts Building (1280 Peachtree St. NE, Atlanta GA 30309) y en las instalaciones del Woodruff Arts Center.
Las actividades culturales del Festival se llevarán a cabo antes de la presentación del film Coco en Concierto de Disney y Pixar, como parte de la serie de las Películas en Concierto de la Orquesta Sinfónica de Atlanta. La admisión al festival es general y gratuita. Para asistir y obtener la entrada a los conciertos los boletos están a la venta. Coco en Concierto se llevará a cabo en la Sala de conciertos de la Sinfónica de Atlanta. Durante las presentaciones se podrá ver la película en una pantalla de 12.19 metros, escuchando a la vez la música de la película, siendo interpretada en vivo por la gran Orquesta Sinfónica de Atlanta. El diálogo de la película es en inglés con subtítulos en español. Las entradas para Coco en Concierto pueden ser adquiridas en aso.org/movies y en ticketmaster.com.
El Día de Muertos es una celebración tradicional mexicana y milenaria que se lleva a cabo anualmente durante los días primero y segundo de noviembre. Durante estos días se cree que las almas de las personas que se han adelantado, regresan a visitarnos. Nosotros les ofrecemos un altar con comida, bebidas, dulces, postres, música, etc. y todo lo que haya sido el gusto de ellos cuando en vida. Es una celebración alegre de los vivientes, honorando aquellos que han fallecido.
Georgia Power con mucho orgullo está patrocinando el Festival del Día de Muertos. Nuestro agradecimiento también va a las siguientes organizaciones: Consulado General de México en Atlanta, Georgia Hispanic Chamber of Commerce, Hispanic Young Professionals & Entrepreneurs, Institute of Mexican Culture, Ecuadorian-American Chamber of Commerce, Atlanta Virtuosi Foundation, Casa de la Cultura – Atlanta, y Danceando Promotions. Danceando Promotions de Atlanta, GA fue fundada en el 2005, por Antonio Rodríguez y Lisbeth Cárdenas con la iniciativa y objetivo de compartir el folclor mexicano.
Sobre la Orquesta Sinfónica de Atlanta
La Orquesta Sinfónica de Atlanta celebra su Septuagésimo Octavo aniversario con su temporada de conciertos. La Orquesta Sinfónica de Atlanta continúa afirmando su excelente y sólida posición artística siendo reconocida internacionalmente como una de las orquestas líderes de América. Sus excelentes conciertos y presentaciones en vivo juntamente con artistas de fama mundial. Educando continuamente a las nuevas generaciones sobre la importancia de la música en nuestra sociedad. La Orquesta Sinfónica de Atlanta durante cada año incluye conciertos pedagógicos, presentaciones musicales a muchas comunidades mas una serie de 150 conciertos clásicos y de diverso repertorio musical. Cada año la sinfónica expande sus servicios logrando alcanzar a un público diverso de más de un cuarto de millón de personas.