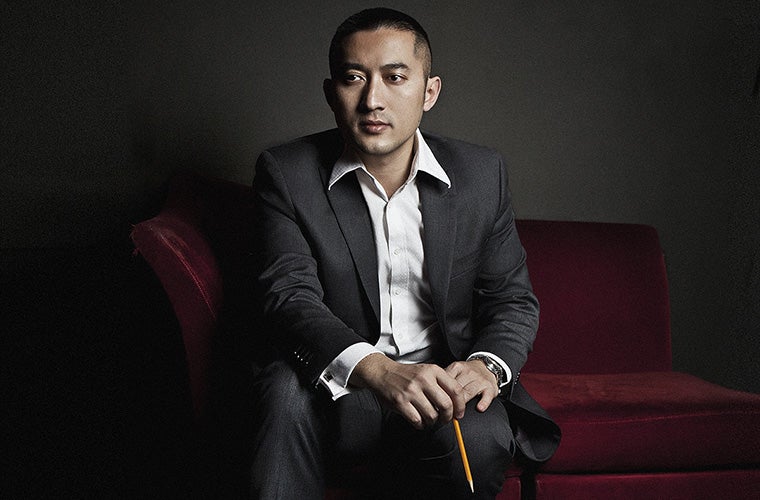 Biography
Artistic Style
Huang Ruo has been lauded by the New Yorker as "one of the world's leading young composers" and by the New York Times for having "a distinctive style." His vibrant and inventive musical voice draws equal inspiration from Chinese ancient and folk music, Western avant-garde, experimental, noise, natural and processed sound, rock, and jazz. As a member of the new generation of Chinese composers, his goal is not just to mix both Western and Eastern elements, but also to create a seamless, organic integration. Huang Ruo's diverse compositional works span from orchestra, chamber music, opera, theater, and dance, to cross-genre, sound installation, multi-media, experimental improvisation, folk rock, and film.
Performers
Huang Ruo's music has been premiered and performed by orchestras such as the New York Philharmonic, Philadelphia Orchestra, San Francisco Symphony, Seattle Symphony, National Polish Radio Orchestra, Kiel Philharmonic Orchestra and the Hong Kong Philharmonic, ensembles and quartets such as Chamber Music Society of Lincoln Center, Asko/Schoenberg Ensemble, Ensemble Modern, London Sinfonietta, Remix Ensemble, Quatuor Diotima, and Ethel Quartet and conductors such as Wolfgang Sawallisch, Michael Tilson Thomas, James Conlon, Marin Alsop, Dennis Russell Davies, Ed Spanjaard, Peter Rundel, Alexander Liebreich, Xian Zhang, and Ilan Volkov.
Operas
Huang Ruo's opera Dr. Sun Yat-Sen had its American premiere at the Santa Fe Opera in 2014 and will receive its Canadian premiere by the Vancouver Opera for its future season. His opera Paradise Interrupted received its world premiere at the Spoleto Festival USA in 2015 and was performed at the Lincoln Center Festival in 2016, before going on tour to Asia and Europe. In addition, his works were shown at Washington National Opera, Houston Grand Opera, New York City Opera and Opera Hong Kong.
Residencies
Huang Ruo was the first composer-in-residence of Het Concertgebouw Amsterdam. He is also in residence at the National Symphony Orchestra of Taiwan.
Conducting
Huang Ruo is the conductor and artistic director of Ensemble FIRE, an adventurous new music group dedicated to the future of music and specialized in multi-media and cross-genre projects. As an inventive interpreter and advocator of new music, Huang Ruo's conducting engagements have brought him to international-renowned venues and festivals such as Het Concertgebouw Amsterdam, the Lincoln Center, Alice Tully Hall, Singapore Esplanade Theatre, China National Centre for the Performing Arts, Taipei National Concert Hall, Aspen Summer Music Festival, Santa Fe Opera Festival, La Jolla Summer Festival, Beijing Modern Music Festival, Singapore International Festival of Arts, etc. Ensembles he has conducted include Asko/Schoenberg, the Chamber Music Society of Lincoln Center, International Contemporary Ensemble, Ensemble Zeitsprung, Chicago Pro Musica, Aspen Contemporary Ensemble, Perspectives Ensemble, just to name a few. His 2016-2017 season highlights include making his conducting debut at Het Concertgebouw Amsterdam with the Asko/Schoenberg, and conducting the Asia premiere of his new opera Paradise Interrupted at the Singapore International Festival of Arts. Huang Ruo has conducted two featured CDs for the Naxos Records. His conducting teacher is professor Huang Xiao-Tong from the Shanghai Conservatory of Music.
Education
Huang Ruo was born in Hainan Island, China in 1976 – the year the Chinese Cultural Revolution ended. His father, who is also a composer, began teaching him composition and piano when he was six years old. Growing up in the 1980s and 1990s, when China was opening its gate to the Western world, he received both traditional and Western education at the Shanghai Conservatory of Music. As a result of the dramatic cultural and economic changes in China following the Cultural Revolution, his education expanded from Bach, Mozart, Stravinsky, and Lutoslawski, to include the Beatles, rock and roll, heavy metal, and jazz. Huang Ruo was able to absorb all of these newly allowed Western influences equally. After winning the Henry Mancini Award at the 1995 International Film and Music Festival in Switzerland, Huang Ruo moved to the United States to further his education. He earned a Bachelor of Music degree from the Oberlin Conservatory of Music and Master of Music and Doctor of Musical Arts degrees in composition from the Juilliard School.
Huang Ruo as a Teacher and Conductor
Huang Ruo is currently on the composition faculty at the Mannes College of Music at the New School in NY. He is the artistic director and conductor of Ensemble FIRE (Future In REverse), and was selected as a Young Leader Fellow by the National Committee on United States–China Relations in 2006.