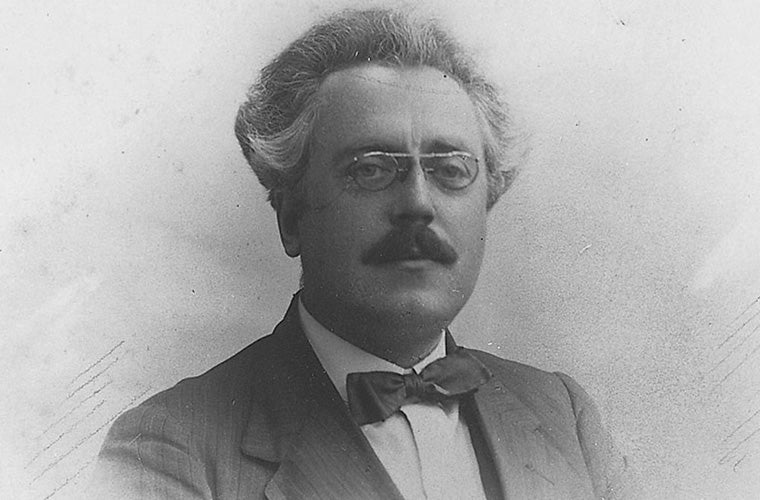 Frank Bridge
1879 - 1941
Biography
The distinguished English composer, Frank Bridge, was a younger child in a large family. He first learned to play the violin from his father, and enjoyed the benefit of early exposure to practical musicianship as a player in music-hall orchestras which his father conducted. In 1896 at age 17 he entered the Royal College of Music, where he studied violin and piano for three years. Following this, he received a scholarship to study composition for another four years under Sir Charles Villiers Stanford. On graduating in 1903, he was awarded the gold Tagore medal reserved for the 'most generally deserving pupil' and received the highest praise from respected composer and teacher at the RCM, Sir Hubert Parry.

On leaving the RCM, Frank Bridge earned his living by teaching and performing. As a violin/viola player, he played in London's leading orchestras and was a member of three string quartets, and regularly coached student chamber groups at the RCM. In 1904, he performed in the British première of the newly completed Debussy String Quartet. In 1906 Bridge composed his own first String Quartet (in E minor) as an entry in a competition sponsored by the Filharmonica Accademica of Bologna, Italy. The same year, he formed a friendship with German-born businessman Edward Speyer — a relationship lasting to Speyer's death in 1934. In his memoirs, Speyer gives fond testimony to Bridge's role in the many delightful musical weekends enjoyed at his Hertfordshire home.

Frank Bridge's future wife, Ethel Sinclair, was a fellow student at the RCM. In late 1907 she returned from her native Australia to England where she and Frank were married in September 1908, and established themselves in Chiswick. In midwinter 1909-10, Bridge composed his famous Suite for Strings over a few short weeks.

Frank Bridge was a thorough craftsman whose skill as a composer was finely sharpened by the depth of his practical musicianship. He soon established a solid reputation as violist in several quartets, most notably the English String Quartet, in which he played from 1903 into the early 1920s. He was also active as a conductor around this time, as rehearsal director of the New Symphony (then recently formed) and at London's Savoy Theatre during its 1910-11 season. It was around the time of the coronation of George V in 1911 that he composed his suite The Sea, which appeared frequently in Promenade concert programmes through the end of the 1930s. The great String Sextet (1912) is the culmination of this period in Bridge's creative development.

As a consequence of his professional excellence, Frank Bridge was often sought as 'last-minute' replacement conductor — a role which he openly disliked. These conducting engagements included Covent Garden (for Thomas Beecham) and the Promenade Concerts (for Sir Henry J. Wood). While Bridge felt hurt and underappreciated not to obtain a permanent conducting post, this failure was attributable in part to an exacting though at times tactless manner with musicians. Though recognizing and respecting his exceptional excellence as conductor, musicians viewed him at times as unencouraging or even abrasive on the podium.

In 1914, the Bridges moved from Chiswick to Bedford Gardens, Kensington, where Frank composed his second String Quartet (in G minor), which won first prize the following year in the annual chamber music competition sponsored by the industrialist W.W. Cobbett. The beautiful tone poem Summer was composed that same year. In 1916, Bridge as part of the English String Quartet began to cut back on public engagements, in favor of more private performances. One place for these 'drawing room' concerts was the home of Marjorie Fass, who lived a few doors down from the Bridges, with whom she became close friends. With a decline in publishing royalties during and immediately after the Great War, Bridge's life was not easy, and he was compelled by economic hardship to spend much of his time teaching violin far and wide, leaving him little time for composing.

After 1920, Frank Bridge took up a new direction with his music which was no longer to reach the same wide audience as did the light and more lyrical output of his pre-war Edwardian years. It is often repeated that the war with its unprecedented, irrational toll in human lives left a deep personal mark on pacifist Bridge and, by extension, his musical idiom. This is no doubt true to some extent, as the depth of Bridge's pacifist conviction is well-established. However, Lewis Foreman has suggested that this worn formula misses the mark, and that Bridge's growing awareness of the childlessness of his marriage was at the heart of this transformation - an argument supported by the time and energy Bridge expended in teaching and mentoring the young Benjamin Britten, the only pupil to whom he taught composition. Young Britten's affectionate relationship with the Bridges can almost be likened to that of an adopted son.

In 1922, Frank Bridge had the good fortune of meeting millionaire American patron of the arts Elizabeth Sprague Coolidge at the home of publisher Winthrop Rogers. That summer, Bridge and his wife Ethel, along with Rogers, toured France and the West Country with Mrs Coolidge. The Bridges and Coolidge soon established what was to become a lifelong acquaintance. Before returning to America, the influential Coolidge extended to the Bridges an invitation to the following year's Berkshire Chamber Music Festival, in western Massachusetts.

Early in 1923, the Bridges and Marjorie Fass purchased land near the South Downs village of Friston, with the aim of constructing adjacent cottages. An amateur musician and artist, Fass was a close friend of the Bridges since 1916 in Bedford Gardens. The cottages were eventually completed. It was there that Benjamin Britten frequently visited with the Bridges. Recalling his visits in 1931, B. Britten noted that Marjorie Fass was always in and out of the Bridges' house, and used a variety of nicknames with Bridge ("Franco", "Mr Brit", and "Duddles"). Composer, pianist, and music editor Howard Ferguson, who frequented the Bridge's home in those days, plainly said (in a phone interview with B. Britten's biographer Humphrey Carpenter in 1990) that he judged Fass was in love with Bridge and that it was a contented ménage à trois. In any event, Fass seems at least to have had a sort of infatuated affection for Bridge, with whom she first became acquainted when the English String Quartet rehearsed regularly at her home; however, it may still be questionned whether Bridge himself had any feelings beyond simple friendship toward Fass.

Through Coolidge's patronage and mediation, Frank Bridge was able to bring his works to America's orchestras, touring the United States as guest conductor in 1923, also returning to visit in later years. The more important consequence of this patronage was to enable Bridge to devote himself more exclusively to composing, though his health regretably began to falter after 1930. Though active all his life, Bridge most preferred spending time in the company of a few close friends in the quiet retreat of the South Downs cottage near Eastbourne, where he composed many of his finest works. During the winter of 1940-41 he was at work on a large composition for string orchestra. One very cold Friday afternoon in 1941, after puttering over his car and exchanging a friendly word with a neighbor, he came back into the house saying he felt sick, lay down for a few hours, and died of congestive heart failure early that same evening. Only a single movement Allegro moderato was completed of the projected work. In the wake of what was to be a new and more terrible European war, his music soon slipped into a temporary oblivion.

It was not until more than two decades later that Bridge's works truly began their reemergence, largely through the efforts of the Frank Bridge Trust. In effect, the higher quality of post-war recording technology permitted many more people to hear Bridge's music than during his own lifetime, earning him in the time since his death, recognition he would certainly have appreciated.