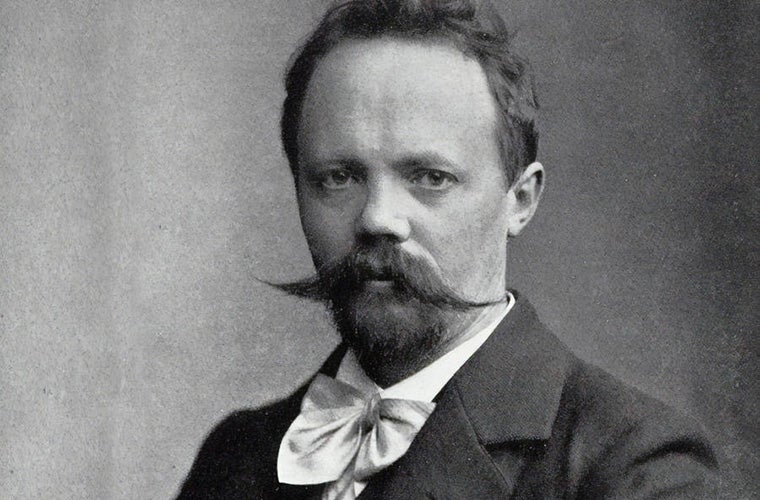 Engelbert Humperdinck
1854 - 1921
Biography
The German composer, Engelbert Humperdinck, produced his first composition after receiving piano lessons when he was only 7. His first attempts at works for the stage were two Singspiele when he was 13. His parents did not approve of his becoming a musician, so despite them encouraging him to study architecture, he took music classes at the Cologne Conservatory, which he entered in 1872 under Ferdinand Hiller. In 1876 he won a scholarship which enabled him to go to Munich, where he studied with Franz Paul Lachner and later with Josef Rheinberger. He won the Mendelssohn Stiftung (foundation) of Berlin in 1879, and went to Italy, and became acquainted with Richard Wagner in Naples. Wagner invited him to go to Bayreuth, and during 1880-1881 Humperdinck assisted in the production of Parsifal. Having won another prize, however, he went again to Southern Europe, traveling through Italy, France and Spain, spending two years in Barcelona teaching at the conservatoire. In 1887 he returned to Cologne, and was appointed professor at the Hoch Conservatory (Frankfurt-am-Main) in 1890, and also teacher of harmony at Stockhausen's Vocal School. By this time he had composed several works for chorus and a Humoreske for orchestra, which enjoyed a vogue in Germany.

Engelbert Humperdinck would later be credited as the inspiration for the character of Prince Humperdinck in William Goldman's 1973 novel, The Princess Bride, though some scholars argue that the fictitious prince was based on the singer of the same name, a contemporary of Goldman's. His chief reputation rests on his opera Hänsel und Gretel, which was produced at Weimar, 1893. In 1896 the Kaiser made Humperdinck a Professor and he went to live at Boppard. Four years later, however, he went to Berlin where he was appointed head of a Meister-Schule of composition. Among his other operatic works are Dornröschen, Die Königskinder and Die Heirat wider Willen. Humperdinck was greatly influenced by Richard Wagner, and worked as his assistant. In his opera Die Königskinder, Humperdinck became the first composer to use Sprechgesang, a vocal technique halfway between singing and speaking, and later exploited by Arnold Schoenberg.

In 1914 Engelbert Humperdinck seems to have applied for the post of director of the New South Wales Conservatorium of Music in Sydney, but with the outbreak of World War I it became unthinkable for a German to hold this position, and the job went instead to Belgium's Henri Verbrugghen.

Engelbert Humperdinck received the Frankfurt Mozart Prize in 1876, and with its help he was able to travel to Munich. There, he continued to take classes to develop his talent in music, finding many opportunities to gain experience both composing and performing. For over ten years he met many important composers such as Franz Lachner, Giovanni Sgambati, and Richard Wagner and heard their works. He eventually became one of Wagner's most important students and assistants, and eventually became music tutor to the great composer's son, Siegfried Wagner. Humperdinck subsequently held various teaching positions of distinction and enjoyed a long and fruitful collaboration in the theatre with the great playwright and director Max Reinhardt, providing incidental music for a number of Shakespearean productions in Berlin. While in Berlin, Humperdinck began work on Hänsel und Gretel after his sister asked him to compose music for a play for her children in 1890. He first started to compose Hänsel und Gretel, based on the fairy tale by the Brothers Grimm, as a Singspiel consisting of a play with 16 songs and piano accompaniment. A few months later, he presented his fiance Hedwig Taxer with Hänsel und Gretel as an engagement present.

Quickly realizing the work's potential, Engelbert Humperdinck instead decided to create a full-scale opera, and in January of 1891 he began working on a complete orchestration. Nearly three years later Richard Strauss — who dubbed it "a masterpiece of the highest quality… all of it original, new, and so authentically German" — conducted its premiere. With its highly original synthesis of Wagnerian techniques and traditional German folk songs, Hänsel und Gretel was an instant and overwhelming success. It was such a success that in 1923 it became the first complete opera ever to be broadcast on radio (from Covent Garden, London), and eight years later it was the first to be transmitted live from the Metropolitan Opera. Tragically, it was at about the same time that Humperdinck developed a hearing affliction and remained partially deaf for the rest of his life.

On January 5, 1912, Engelbert Humperdinck suffered a severe stroke. Although he was eventually able to recover, his left hand remained permanently paralyzed. During the summer of 1915, he began to compose what would be his final work for the stage, Gaudeamus, and with the help of his son, Wolfram, it was completed in 1918. On September 26, 1921, Humperdinck attended the performance of Wolfram's first production as a director of Carl Maria von Weber's Der Freischütz. During the performance he had a heart attack. He died the next day from a second heart attack. In his memory, Hänsel und Gretel was performed several weeks later by the Berlin State Opera. The opera is still a worldwide favourite.