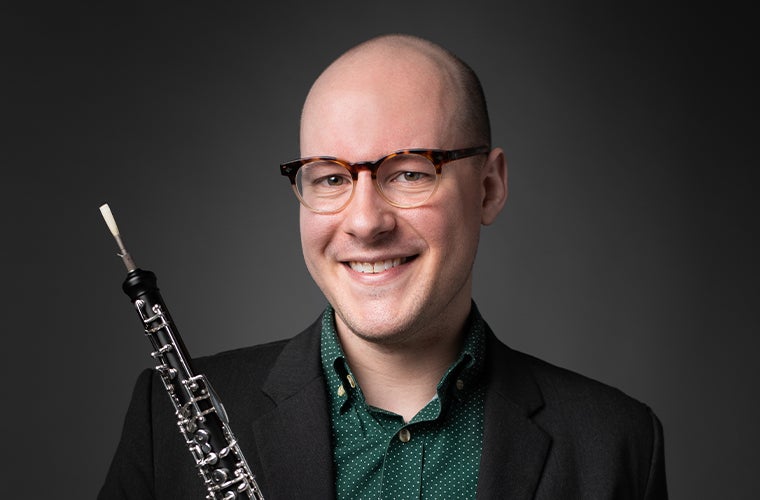 The Kendeda Fund Chair
Zachary Boeding
Associate Principal Oboe
Biography
Zachary Boeding joined the Atlanta Symphony Orchestra as Associate Principal Oboe in September 2019. Prior to his appointment in Atlanta, Boeding held the Assistant Principal/Second Oboe position with the San Antonio Symphony.
Boeding has performed with the Saint Paul Chamber Orchestra, Grand Teton Festival Orchestra, Los Angeles Philharmonic, as well as the Kansas City, Princeton, and Bay Atlantic Symphonies. Additionally, he was a fellow at the Tanglewood Music Center and a core member of The Orchestra Now (TŌN), an orchestra training program at Bard College.
As a recitalist and emcee, he has presented across North America in venues like Washington D.C.'s Kennedy Center Millennium Stage, the Isabella Stewart Gardner Museum and Jordan Hall in Boston, and the Salle Bourgie of the Musée des beaux-arts de Montréal. A dedicated performer of contemporary music, Boeding has premiered and performed new works with Boston Musica Viva, Boston's New Music Initiative, Philadelphia's Network for New Music, among others.
A Kansas City native, Boeding holds a Master's degree from McGill University Schulich School of Music and a Bachelor's degree from New England Conservatory of Music; he studied with Theodore Baskin and John Ferrillo, respectively. Further studies with Anne Marie Gabriele, Jonathan Blumenfeld, Barbara Bishop, and Daniel Stolper have been equally integral to his formation.
What year did you join the ASO?
2019
What's the most interesting or difficult facet of your instrument?
The reeds. If y'all only knew... seriously!
What do you do in your free time outside of work?
Hang out with my little hound, go on walks around the city, read, cook, study languages, and watch as much Netflix as possible.
Cats or dogs?
Dogs... my hound, Lucy, would kill me if I said cats (she is NOT a fan!).
What other instrument do you wish you played?
Viola - they have the coolest lines in orchestra, which I am constantly listening to and wishing I could play.
Favorite time of year to get outside?
The fall. Growing up in the Midwest, I have a deep appreciation and love for when the leaves change and the temperature begins to drop.
Most interesting or unusual place you've played a concert?
Fishkill Correctional Facility