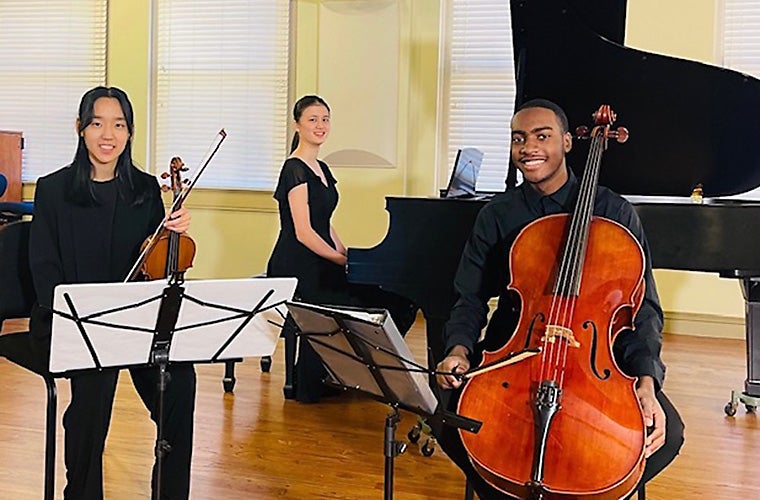 The Magnolia Trio
Biography
The Magnolia Trio formed last September as one of two ASYO Chamber Players groups. They have been working with the faculty of Franklin Pond Chamber Music in preparation for performances in masterclasses, at the March ASYO concert, and in the Franklin Pond Finale Concert April 30th at 4pm in the Rich Theater of the Woodruff Arts Center.


Brandon Leonard, cello
Brandon Leonard is a sixteen-year-old 11th grader at Chamblee Charter High School in Chamblee, Georgia. He began playing the cello in the fourth grade at Kittredge Magnet School in Atlanta. Brandon has attended summer music camps at the Atlanta Chamber Music Festival, the Tanglewood Junior Strings Intensive program, and the Center Stage Strings program at the University of Michigan. Brandon was a participant in the 2017-2020 GMEA All State Orchestras. He served as principal cellist in 2017 and 2019 for the GMEA All State Middle School Orchestras and was principal in 2020 for the High School Orchestra. He was the 2018- 2019 principal cellist for the Metropolitan Youth Symphony Orchestra (MYSO). He was also a recipient of the 2017, 2018 and 2019 MYSO Scholarship Awards.

Currently, Brandon is a member of the Atlanta Symphony Youth Orchestra (ASYO). In 2020, Brandon received 2nd prize in the National Sphinx Competition Jr. Division and the Center Stage Strings Young Artist Solo Competition. He also received 1st place in the Georgia Philharmonic Samuel Fordis Young Artists Competition and the Hilton Head Concerto Competition. Most recently, he has been selected as a finalist in the Ronald Sachs International Music Competition in North Carolina. He enjoys the piano which he has been playing for about nine years. Brandon is an honor student and participates on his school's academic bowl team. In church, Brandon participates in the youth ministry and serves as a youth usher. He is a member of the Decatur Alumni Chapter Kappa League. Brandon enjoys playing board games, trivia, watching TV shows from the 70s/80s and listening to music.


Katherine Chong, violin
Katherine Chong started her studies in violin at the age of 6. Currently, she studies with Ginny Fairchild and has previously studied with William Pu, Ronda Respess, and Haejin Yoo. Katherine was selected as a String Finalist in the 58th Governor's Honors Program during the summer of 2021 and entered GMTA and other competitions at a young age. Katherine was given opportunities to perform solos at the Weill Recital Hall at Carnegie Hall as a first prize winner of the American Protégé International Competition and the Golden Classical Music Awards International Competition.

Katherine has served as concertmaster of the prestigious Atlanta Symphony Youth Orchestra, the GMEA All-State Orchestra, the Emory Junior Chamber Orchestra, and the Johns Creek High School Chamber Orchestra. She has also performed in orchestras at Carnegie Hall and orchestral solos at the Musikverein in Vienna, Austria. Katherine is currently a member of the Magnolia Trio as part of the ASYO Chamber Players and has previously served as a first violinist in various ensembles and quartets such as the Dawn Quartet and Strings 4 Services. She has previously won awards in the Franklin Pond Chamber Competition, such as the School Prize in her 8th grade year.

Katherine is a senior at Johns Creek High School, where she takes part in various clubs and is the president of cultural clubs as well as Notes of Joy, a student-run ensemble at JCHS dedicated to spreading the joy of music to those in the Johns Creek area. Outside of school, Katherine takes part in volunteer programs, such as Strings 4 Services, which she co-founded with the rest of her quartet members in order to perform for Korean War Veterans and give back to her community.


Hailey Culp, piano
Hailey Culp is an accomplished pianist from Atlanta, Georgia beginning her piano journey with Ms. Ping Xu at age five. She has since participated in various international, state, and regional competitions.

In 2019, she was the winner in both the Golden Era of Romantic Music and the Russian Music Festival by the American Fine Arts Festival. That same year, she won first prize in the International Music Competition Brussels "Grand Prize Virtuoso" and was invited to perform at the Studio Recital Hall at Centre for Fine Arts of Brussels, Belgium. She has also been the runner-up in the state and regional competitions of the MTNA and the GMTA piano competitions multiple times.

Hailey has appeared at Piedmont University, Carnegie Hall, and St. Peter's and Paul Church for various performances. Besides solos, Hailey also performs duets and chamber music. She was previously involved in the Emory Youth Chamber Music Program with the Vega String Quartet and is currently a musician within the Franklin Pond Chamber Program.

She has attended UGA's Summer Music Camp and the Brevard Music Center. Hailey has taken master classes from Olga Kern, Liza Stepanova, David Fung, Michael Bulychev-Okser, Raffi Besalyan, Geoffrey Haydon, and David Watkins.