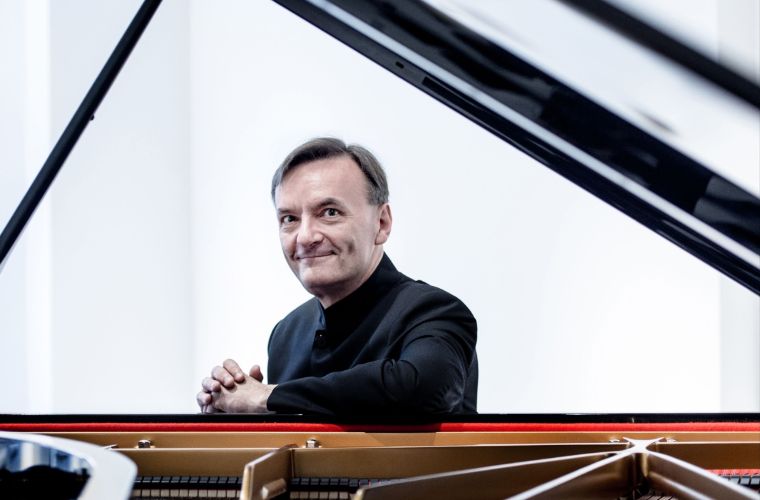 Biography
Combining a distinguished career as a pianist with those of composer and writer, Stephen Hough is regarded as a Renaissance man of his time. The first classical pianist to be awarded a MacArthur Fellowship and a Commander of the Order of the British Empire (CBE), his mastery of the instrument as well as an individual and inquisitive mind has earned him a multitude of prestigious awards and a longstanding international following.
Since taking first prize at the 1983 Naumburg Competition in New York, Mr. Hough has performed with the world's major orchestras and given recitals at the most prestigious concert halls. His recent and upcoming North American engagements include performances with the New York and Los Angeles Philharmonics, Cleveland and Minnesota Orchestras, and the San Francisco, Montreal, St. Louis, Cincinnati, National, Pittsburgh, Atlanta, Dallas and Detroit symphonies among many others; recitals in New York at Carnegie Hall, Lincoln Center and the 92nd St. Y, the Kennedy Center and in Chicago, San Francisco, Los Angeles and Toronto; and festival appearances at Aspen, Blossom, the Hollywood Bowl, Mostly Mozart ,Ravinia and Tanglewood. Internationally, he appears with orchestras and in recital in major music centers such as London, Paris, Amsterdam, Berlin, Helsinki, Zurich, Tokyo, Hong Kong, Beijing, Singapore, Shanghai, Sydney and Melbourne.
On June 1, 2020, Stephen Hough re-opened London's Wigmore Hall, performing the UK's first live classical music concert in a major venue since the nationwide lockdown in March. Later in the summer he made his 29th appearance at the BBC Proms performing Beethoven's Piano Concerto No. 2 with the BBC Scottish Symphony Orchestra. During the 19/20 season, he also curated a five concert Brahms series at Wigmore Hall, performing with Renaud Capucon and Steven Isserlis among others.
Mr. Hough's extensive discography of over 60 CDs has garnered international awards including the Diapason d'Or de l'Année, several Grammy nominations, and eight Gramophone Awards including Record of the Year and the Gold Disc. Recent releases include solo piano works by Debussy, the 'Dream Album', a compilation of Mr. Hough's favorite short works, and a live recording of Schumann and Dvořák's piano concertos with Andris Nelsons and the City of Birmingham Symphony Orchestra, all for Hyperion Records. In May 2020, Mr. Hough celebrated the 250th anniversary of Beethoven's birth with a three-disc recording cycle of the composer's five piano concertos, recorded with Hannu Lintu and the Finnish Radio Symphony Orchestra for Hyperion Records. Mr. Hough has performed the Beethoven piano concertos numerous times with the world's leading orchestras throughout his 30-year career, including in recent seasons with the New York Philharmonic and St. Louis Symphony. Mr. Hough's next recording, Vida, featuring his Vida Breve sonata and works by Chopin, Liszt, Busoni, and Bach/Gounod, is due to be released in January 2021.
As a composer, Mr. Hough has written for orchestra, choir, chamber ensemble and solo piano. He has been commissioned by Wigmore Hall, Musée du Louvre, London's National Gallery, Westminster Abbey, Westminster Cathedral, the Genesis Foundation, Gilmore International Keyboard Festival, Indianapolis Symphony, the Walter W. Naumburg Foundation, the Cliburn Foundation and the Berlin Philharmonic Wind Quintet. His music is published by Josef Weinberger Ltd.
A noted writer, Mr. Hough has written articles for the New York Times, The Guardian, The Times (UK), The Telegraph, Evening Standard, The Tablet, Gramophone, and BBC Magazine. From 2010 until 2016 he wrote more than six hundred articles on his blog for The Telegraph, which became one of the most popular and influential forums for cultural discussion. A major anthology of essays by Mr. Hough on music, cultural, lifestyle and spiritual subjects – titled Rough Ideas: Reflections on Music and More – was published by Faber & Faber (UK) in 2019 and by Farrar, Straus and Giroux (US) in 2020. This follows his first novel, The Final Retreat, published by Sylph Editions in March 2018. Also an avid painter, Mr. Hough gave his first exhibition of nearly twenty abstract acrylic paintings in London in 2012.
Stephen Hough is an Honorary Member of the Royal Philharmonic Society, a Visiting Professor at the Royal Academy of Music, holds the International Chair of Piano Studies at the Royal Northern College of Music, and is on the faculty of The Juilliard School in New York.
Photo Credit: Sim Canetty-Clarke