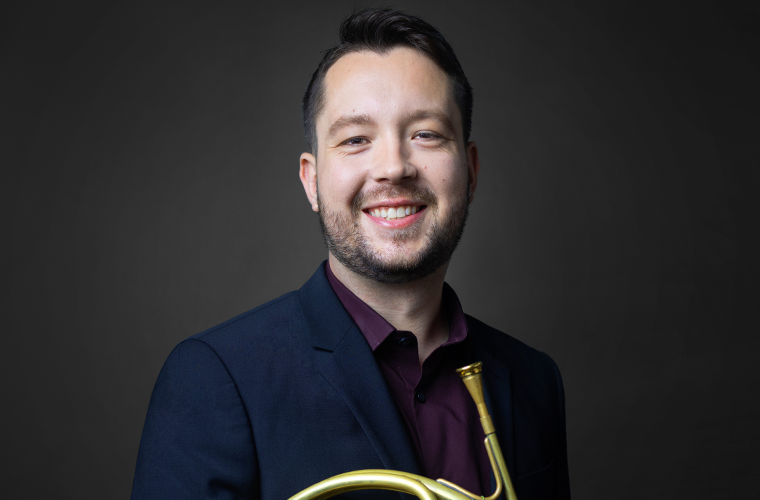 The Betty Sands Fuller Chair
Ryan Little
Principal Horn
Biography
Ryan Little joined the Atlanta Symphony Orchestra as Principal Horn during the 2022-2023 season. Prior to his arrival at the ASO, he served as Principal Horn of the Naples Philharmonic for six years. Ryan received his B.M. from the Northwestern University Bienen School of Music where he studied with Gail Williams and Jonathan Boen and received his M.M. from the Rice University Shepherd School of Music where he studied with William VerMeulen. 
In addition to his responsibilities with the ASO, Ryan plays Principal Horn at the Eastern Music Festival in North Carolina. Ryan has performed as Guest Principal Horn with the orchestras of Cincinnati, Frankfurt Radio, Minnesota, Orlando, Sarasota, Vancouver, and WDR Cologne, and has also performed with the Houston Grand Opera, Houston Symphony, New World Symphony, Philadelphia Orchestra, and the Utah Symphony. As a concert soloist, he has performed with the Naples Philharmonic, Northwestern University Baroque and Symphonic Wind Ensembles, l'Orchestre de la Francophonie, and the Skokie Valley Symphony. 
During the summers Ryan has performed at the Britt Music & Arts Festival, Grant Park Music Festival, Lakes Area Music Festival, and Sun Valley Music Festival. He also been a fellow in the Castleton Festival, Lucerne Festival Academy, National Orchestral Institute, Spoleto Festival USA, Tanglewood Music Center, Verbier Festival, and YOA Orchestra of the Americas. Ryan performs on instruments made by Karl Hill of Rockford, Michigan.