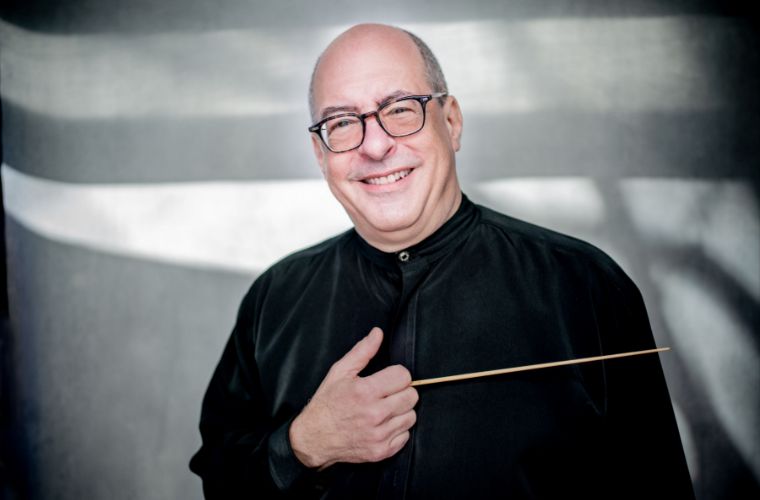 Music Director Laureate
Robert Spano
Music Director Laureate
Biography
Robert Spano, conductor, pianist, composer, and teacher, is known worldwide for the intensity of his artistry and distinctive communicative abilities, creating a sense of inclusion and warmth among musicians and audiences that is unique among American orchestras. After twenty seasons as Music Director, he will continue his association with the Atlanta Symphony Orchestra as Music Director Laureate. An avid mentor to rising artists, he is responsible for nurturing the careers of numerous celebrated composers, conductors, and performers. As Music Director of the Aspen Music Festival and School since 2011, he oversees the programming of more than 300 events and educational programs for 630 students and young performers. Principal Guest Conductor of the Fort Worth Symphony Orchestra since 2019, Spano became Music Director Designate on April 1, 2021, and begins an initial three-year term as Music Director in August 2022. He will be the tenth Music Director in the orchestra's history, which was founded in 1912.

For the 2021-2022 season, Mr. Spano shared the role of artistic advisor of the Atlanta Symphony Orchestra with Principal Guest Conductor Donald Runnicles, extending their unique 20-year musical partnership. To celebrate the return to live performances, Maestro Spano launched the new season on September 9, 10, and 11, 2021, with an Opening Night program of Beethoven's iconic Fifth Symphony and "Emperor" Concerto with Avery Fisher Prize winner Garrick Ohlsson as soloist.

The 2018-2019 season featured Mr. Spano's highly-acclaimed Metropolitan Opera debut, leading the US premiere of Marnie, the second opera by American composer Nico Muhly, with Isabel Leonard, Janis Kelly, Denyce Graves, Iestyn Davies, and Christopher Maltman, and the conclusion of the ASO's two-year "LB/LB" celebration commemorating Leonard Bernstein and Ludwig van Beethoven. This celebration featured six Bernstein works and nine Beethoven Symphonies, and vocal masterpieces including Verdi's Otello, Beethoven's Fidelio, and Bernstein's Candide. Recent concert highlights have included several world premiere performances including Voy a Dormir by Bryce Dessner at Carnegie Hall with the Orchestra of St. Luke's and mezzo-soprano Kelley O'Connor; George Tsontakis's Violin Concerto No. 3 with the Dallas Symphony Orchestra; Dimitrios Skyllas's Kyrie eleison with the BBC Symphony Orchestra; the Tuba Concerto by Jennifer Higdon, performed by Craig Knox and the Pittsburgh Symphony; Melodia, For Piano and Orchestra, by Canadian composer Matthew Ricketts at the Aspen Music Festival; and Miserere by ASO bassist Michael Kurth.

In addition to his leadership of the ASO, Spano recently returned to his early love of composing. His most recent work is a song cycle on Rilke's Sonnets to Orpheus that he wrote for mezzo-soprano Kelley O'Connor. In 2016, he premiered his Sonata: Four Elements for piano at the Aspen Music Festival, and a song cycle, Hölderlin-Lieder, for soprano Jessica Rivera. Those works were recorded on the ASO Media label and praised by Oberon's Grove: "On this latest release, from ASO, we experience Spano as both an imaginative and evocative composer - with a special gift for writing for the voice - and a poetic pianist."

The Atlanta School of Composers reflects Spano's commitment to American contemporary music. He has led ASO performances at Carnegie Hall, Lincoln Center, and the Ravinia, Ojai, and Savannah Music Festivals. Guest engagements have included the Cleveland, Philadelphia, and Minnesota Orchestras, New York and Los Angeles Philharmonics, and the San Francisco, Boston, Chicago, Dallas, Houston, New World, San Diego, Oregon, Utah, and Kansas City Symphonies. Internationally, Maestro Spano has led the Orchestra Filarmonica della Scala, BBC Symphony, Amsterdam's Royal Concertgebouw Orchestra, Orquestra Sinfonica Brasileira, Orquestra Sinfonica Estado Sao Paulo, Wroclaw Philharmonic, the Melbourne and Sydney Symphonies in Australia, and the Saito Kinen Orchestra in Japan.  His opera performances include Covent Garden, Welsh National Opera, Lyric Opera of Chicago, Houston Grand Opera, and the 2005 and 2009 Seattle Opera productions of Wagner's Ring cycles.

With a discography of critically-acclaimed recordings for Telarc, Deutsche Grammophon, and ASO Media, Robert Spano has garnered four Grammy™ Awards and eight nominations with the Atlanta Symphony. Spano is on faculty at Oberlin Conservatory and has received honorary doctorates from Bowling Green State University, the Curtis Institute of Music, Emory University, and Oberlin. Maestro Spano is a recipient of the Georgia Governor's Award For The Arts And Humanities and is one of two classical musicians inducted into the Georgia Music Hall of Fame. He makes his home in Atlanta and Fort Worth.
Quotes in the Media
Mr. Spano drew a glowing, spacious performance of this Brahms masterwork from the orchestra, marking a great return visit for both him and this essential ensemble.

The New York Times
The festival's music director, Robert Spano, caught both the broadest and finest strokes of tempo, dynamics and critical orchestral balances. He drew the best playing in the quiet, subtle moments of the score and long buildups to big climaxes.

Aspen Times
The sonics of the CD are excellent, and the presence of both Rivera and Spano well-suited. It is a fine presentation of both Rivera's voice and Spano's collaborative capabilities at the piano, as well as his insight into his skills as a composer.

ArtsATL