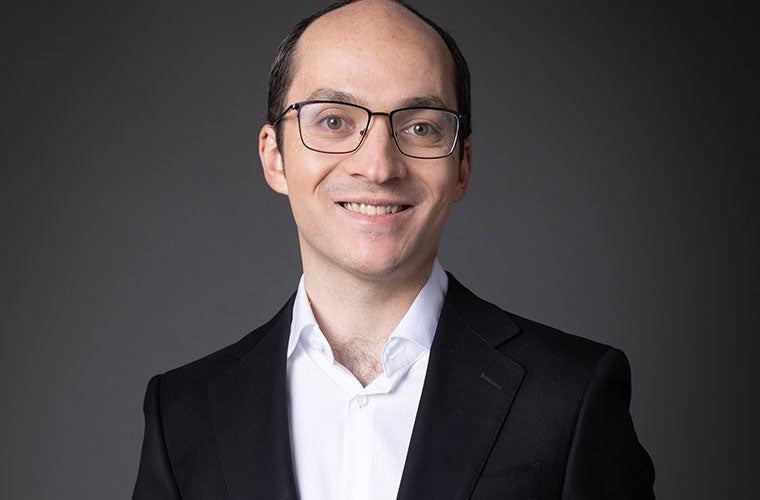 Robert Anemone
Biography
Violinist Robert Anemone is the first prize winner of the 2015 Hudson Valley Philharmonic Strings Competition, the 2013-14 New England Conservatory Violin Competition, and the 2007 Concord Young Artist Competition. He has appeared as a soloist with the Evansville Philharmonic Orchestra, Hudson Valley Philharmonic, Concord Symphony, University of Evansville Symphony Orchestra, New England Conservatory Philharmonia, and others, as well as in recital in the United States and Europe. Robert joins the second violin section of the Atlanta Symphony Orchestra in 2020.
From 2018 until 2020, Anemone was in the first violin section of the North Carolina Symphony, where he also served as Acting Assistant Concertmaster for part of the 2019/20 season. Prior to that, Robert spent three years as concertmaster of the Evansville Philharmonic and a member of the Eykamp String Quartet, which served as the faculty artists-in-residence at the University of Evansville. From 2014 to 2019, Anemone also held the position of Principal Second Violin of the Portland Symphony Orchestra, where he served numerous times as Acting Concertmaster. Other orchestral engagements include appearances as guest concertmaster with Indianapolis Opera and Orchestra Kentucky, as well as performances and recording projects with a variety of larger ensembles including the Boston-based chamber orchestras A Far Cry and Discovery Ensemble, Odyssey Opera, the Boston Modern Orchestra Project (BMOP) and the Callithumpian Consort.
As a chamber musician, Anemone has collaborated with such artists as the Borromeo String Quartet, Jeffrey Irvine, James Buswell, Stephen Druryand Grigory Kalinovsky, and has performed on the stages of Carnegie Hall and Jordan Hall. During the summer of 2019, he took on the role of acting second violinist of the Jasper String Quartet as they toured across the United States. From 2015 to 2017, Anemone was a member of the Larchmere String Quartet, which gave recitals and masterclasses across the United States and Canada in such venues as the Chicago Cultural Center, Cincinnati College-Conservatory of Music, and the University of Louisville's Comstock Hall.
A graduate of James Buswell's studio at the New England Conservatory (BM 2012, MM 2014), Robert was a recipient of the Dorothy J. Bales '41 Violin Scholarship and was awarded the 2014 Gunther Schuller medal for outstanding graduate study. He received additional training at the Taos School of Music, the Aspen Music Festival and School, and the Heifetz Institute, where he worked with the Borromeo, Brentano, Miro, and Shanghai String Quartets, as well as Michael Tree, Robert McDonald, Thomas Sauer, Sylvia Rosenberg, Virginia Weckstrom, and Grigory Kalinovsky, among others. Passionate about passing on the knowledge he has gained from these mentors, he is a committed teacher and has taught at the University of Evansville, the North Bennet Street School, the St. Paul Chamber Music Institute, the Chapel Hill Chamber Music Workshop, the North Carolina Chamber Music Institute, the Lamar Stringfield Music Camp, and others, and he has presented masterclasses at UNC Chapel Hill, Otterbein University, and the University of Evansville. In addition to music, Robert is an enthusiastic amateur woodworker and enjoys good coffee, bad movies, and the great outdoors.
What year did you join the ASO?
2020
Why did you choose your instrument?
When I was three years old, I asked my parents if I could play the violin— I'm not sure if I entirely knew what one was, and I certainly didn't know what I was getting myself into, but fortunately for me, they acquiesced and got me a 1/16th size instrument and signed me up for lessons. The rest, as they say, is history!
What do you do in your free time outside of work?
I am an enthusiastic amateur woodworker (when I can manage to find the time for it). I also enjoy running, especially in seasons when the weather is kind.
Cats or dogs?
I like them both, but I am the proud adopted parent of a ridiculously sweet little cat named Skye.
Do you come from a musical family?
Neither of my parents are professional musicians, but they are great lovers of music and have always been amazingly supportive. My older sister was a serious cellist before pursuing a career in landscape architecture, and I still find inspiration thinking of her playing even though she no longer performs.