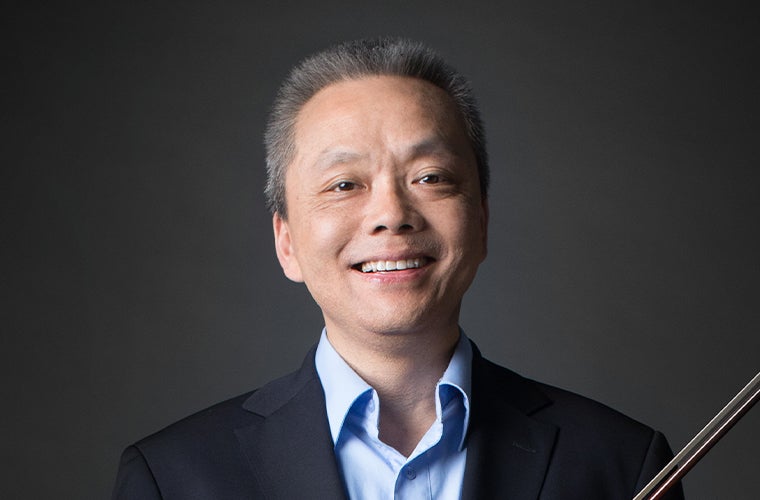 The Carolyn McClatchey Chair
Raymond Leung
Biography
Since the 1992/93 season, Raymond Leung has been a member of the Atlanta Symphony Orchestra's violin section, having held titles both as Section Violin and as Acting Assistant Concertmaster. He is the recipient of the Carolyn McClatchey Endowed Chair, and serves as a Violin Teacher for the ASO's Talent Development Program. He is also a founding member of the LYRA String Quartet, String Quartet in Residence at Clayton College and State University and Callanwolde Fine Arts Center. Previously, he was First Violinist of the Lockerbie String Quartet, in residence at Butler University and the Indianapolis Museum of Art. Other affiliations include the Indianapolis Chamber Orchestra and the Chicago Ensemble.
A native of Hong Kong, Leung began his studies with Thomas Wang, and from an early age won numerous prizes in the Hong Kong School's Music Festivals. His first visit to the United States was on full scholarship to the National Music Camp at Interlochen, Michigan, and he returned to the U.S. two years later, again on a full scholarship to the North Carolina School of the Arts.
Mr. Leung holds a Bachelor of Music degree from University of Wisconsin at Madison, a Master of Music degree with a Performer's Certificate from Indiana University at Bloomington, and an Artist Diploma from the Cleveland Institute of Music. His principal teachers have been Vartan Manoogian, Yuval Yaron and David Cerone.
A regular participant of the Grand Teton Music Festival since 1991, Mr. Leung has been a guest artist at the Brightstar Music Festival in Charlotte, North Carolina. He was appointed Faculty Member of the Madeline Island Chamber Music Camp in Wisconsin in 2002 and 2005, and has taught at the Chamber Music Workshop at Converse College in Spartanburg, South Carolina. In 1988, he was invited by the Hong Kong Government's Music Office to be on faculty as Principal Overseas Instructor for the HK International Youth Music Camp, and, in April 2007, Leung was invited by the Hong Kong Sinfonietta to be Concertmaster for their three-week tour in Hong Kong, La Folle Journee Music Festival in Tokyo as well as the Spring Music Festival in Shanghai. Leung has recorded for Radio Television Hong Kong and National Public Radio in the United States, as well as orchestrally for many of the ASO's GRAMMY® award-winning recordings and a CD by the LYRA String Quartet.