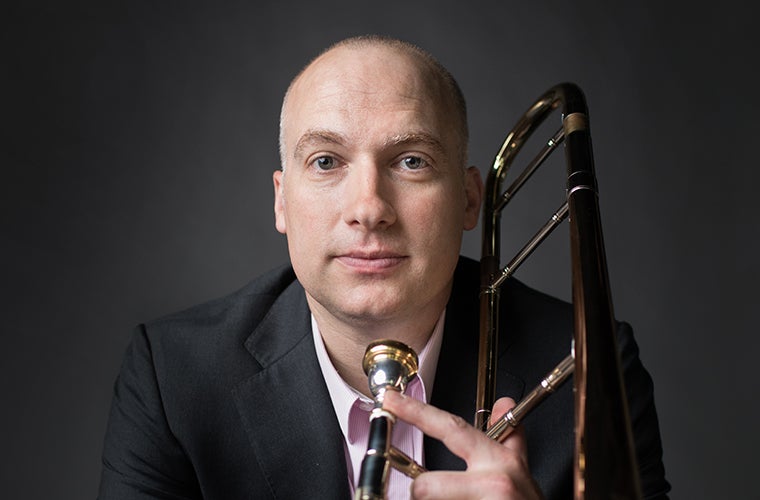 Nathan Zgonc
Acting/Associate Principal Trombone
Biography
Nathan Zgonc joined the trombone section of the Atlanta Symphony Orchestra in 2011.
Zgonc has received numerous awards, including special prizewinner at the Budapest International Trombone Competition and first place at the Zellmer, Frank Smith Memorial, and Robert Marsteller solo competitions.
In 2009, Zgonc spent the summer as the Principal Trombone of the Seattle Symphony for Wagner's Ring Cycle. He has also performed with the San Francisco, Cincinnati, National, and Houston symphony orchestras, as well as the Kennedy Center Opera Orchestra. Zgonc previously held positions with the Vancouver Symphony, Utah Symphony, and Opera, Sarasota Orchestra, San Antonio Symphony, Oregon Symphony, and United States Navy Band.
Originally from Fairview, OR, Zgonc studied at Indiana University, San Francisco Conservatory, and Manhattan School of Music. His teachers include David Finlayson, Mark Lawrence, and Keith Brown. He is featured on recordings with Vancouver Symphony, San Francisco Symphony, Atlanta Symphony Orchestra, Oregon Symphony, U.S. Navy Band, and Seattle Symphony.
In September 2010, Zgonc gave the world premiere of Aura by Tony DiLorenzo in honor of his mother, Lorely Zgonc – the late concertmaster of the Portland Opera and Ballet.
What year did you join the ASO?
2011
What do you do in your free time outside of work?
I help run Ztunes Music Studio and Slide School, and I play a lot of baseball with my boys.
Do you come from a musical family?
My mother was concertmaster of the Portland Opera and Ballet. My father was also in the opera and ballet orchestra but also spent 25 years as a bassist in the Oregon Symphony.
Earliest musical hero?
My grandfather, David Petrasso, played a mean Carnival of Venice on the trumpet.
What's your favorite Atlanta hidden treasure?
My Parents Basement, in Avondale Estates.
Most memorable/favorite ASO memory or moment?
Performing with John Willians and Steven Spielberg.
Most interesting or unusual place you've played a concert?
The White House