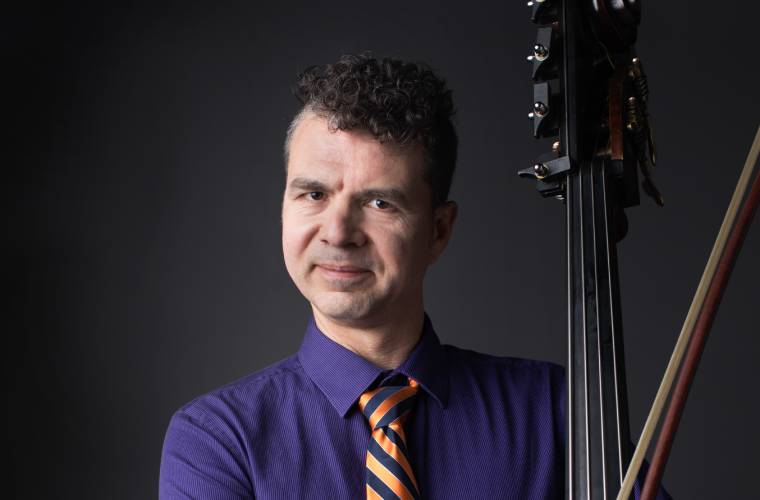 Michael Kurth
Biography
Michael Kurth (b. 1971) has been a member of the ASO bass section since 1994. Also a composer, the ASO has performed his music since 2011, premiering many orchestral and choral works, including Everything Lasts Forever, May Cause Dizziness, A Thousand Words, and Miserere, which the orchestra recorded in 2019 on the ASO Media label, and can be heard on most digital platforms.

His orchestral works have also been performed by the Houston Symphony, the Florida Orchestra, and the Melbourne Symphony.

He has been awarded Artist Residencies at Serenbe and the Hermitage.

Also active as a composer of chamber music, his works have been featured frequently on Performance Today. His collection of short works for string quartet was recorded by the Riverside Chamber Players in 2012, and is also available on most digital platforms.

Kurth has been commissioned twice by the Atlanta Chamber Players. Other groups that have performed his works include the Atlanta Young Singers, the Peachtree String Quartet, the Franklin Pond String Quartet, Concert Artists Guild-award-winning violist Jennifer Stumm, the Georgia Sinfonia, the Atlanta Community Symphony Orchestra, the Georgia State University Wind Ensemble, and movement artists gloATL.

He serves on the faculty of Emory University as Artist Affiliate in Double Bass. He studied bass with Harold Robinson at Peabody Conservatory in Baltimore and received his Bachelor of Music degree with honors. He served as Co-Principal Bass of the New World Symphony in Miami during the 1993-94 season before joining the Atlanta Symphony Orchestra.

He also directs and composes for the Forest Quintet, a uniquely iconoclastic ensemble devoted to the cross-pollination of classical with pop music. The group regularly mashes up TLC with Henry Purcell, Nirvana with Erik Satie, and gleefully mangles any music in its path, bending the traditional to its breaking point.

Kurth and his wife enjoy folk art, hiking, road trips around the South, and spending time with their adopted rescue dogs.
What year did you join the ASO?
1994
What's the most interesting or difficult facet of your instrument?
Violinists are always amazed by how far apart the notes are, compared to their own instruments
What do you do in your free time outside of work?
Compose, create, collaborate, catalyze creative collaboration
Earliest musical memory?
Making up melodies to the words of childrens' books my mom would read to me
Earliest musical hero?
Gene Simmons (in my defense, I was only 8, and he had amazing boots.)
What's your favorite Atlanta hidden treasure?
Live blues at Northside Tavern, the food court at Plaza Fiesta, Arabia Mountain
What is your go-to karaoke song?
Duke Ellington's "Don't Get Around Much Anymore"