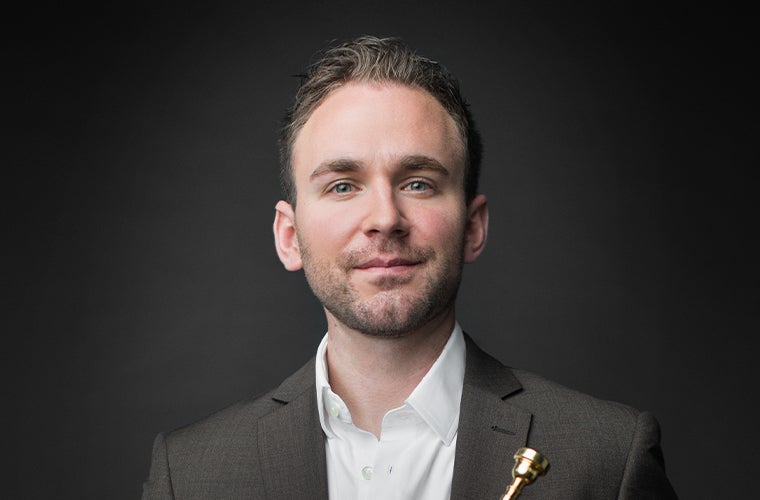 Mark Maliniak
Trumpet
Biography
Mark Maliniak joined the Atlanta Symphony Orchestra as Fourth/Utility Trumpet in September 2018. Mr. Maliniak has toured both nationally and internationally with The Cleveland Orchestra, The Philadelphia Orchestra, San Francisco Symphony, Indianapolis Symphony, and Buffalo Philharmonic. As guest principal trumpet, he has appeared with the Detroit Symphony, Jacksonville Symphony, Malaysian Philharmonic, and Tucson Symphony, and has also performed with the Kansas City Symphony, New World Symphony, Pittsburgh Symphony, Rochester Philharmonic, and Utah Symphony. Mr. Maliniak can be heard on recordings with the orchestras of Cleveland, Philadelphia, Atlanta, Buffalo, Detroit, and Utah.
A native of Cleveland, Ohio, Mr. Maliniak received a Bachelor of Music degree from the Baldwin-Wallace University Conservatory of Music as a student of Jack Sutte and a Master of Music degree from the Cleveland Institute of Music as a student of Michael Sachs. He has had additional studies with Jack Brndiar, Michael Miller, and Lyle Steelman. Mr. Maliniak has attended the Music Academy of the West, Pacific Music Festival, Verbier Festival, and Tanglewood Music Center, where he was the recipient of the Roger Voisin Trumpet Award. Mark Maliniak is a Conn-Selmer Performing Artist.
What year did you join the ASO?
2018
What's on your ASO repertoire bucket list?
Bach B minor Mass
Why did you choose your instrument?
I thought with only three "buttons" that the trumpet must be one of the easier instruments to play! My band director at the time was also a trumpet player and hearing him play and demonstrate some tunes really influenced me.
What do you do in your free time outside of work?
I enjoy teaching, exercising, cooking new creative dishes, playing and watching sport, especially golf.
What other instrument do you wish you played?
I played piano very seriously up through my first year of college, even competing in a few concerto competitions. Had I not chosen the trumpet, I probably would have pursued piano professionally.
Favorite time of year to get outside?
Fall - I love the change of colors in the leaves, colder temperatures, bonfires, and the fall-themed beers!