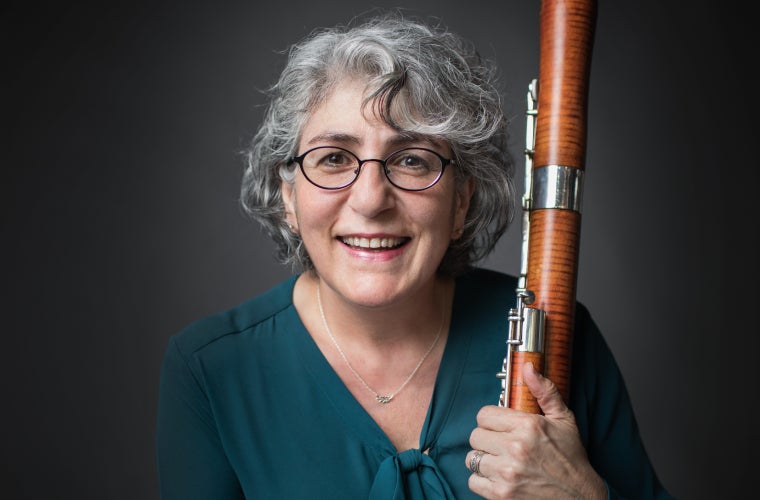 Laura Najarian
Bassoon
Biography
Laura Najarian has played second bassoon with the Atlanta Symphony Orchestra (ASO) since 2005.
Prior to her appointment with the ASO, Ms. Najarian was Principal Bassoon of the Savannah Symphony for 15 years and spent her summers as Principal Bassoon of the Des Moines Metro Opera. She has also performed with orchestras in Jacksonville (FL), Charlotte, Charleston, Omaha, the North Carolina and Utah Symphonies, and the Houston Grand Opera. Summers during college were spent at Tanglewood and the Aspen Music Festival and more recently at the Highlands-Cashiers Chamber Music Festival.
Ms. Najarian graduated from the Cincinnati College-Conservatory of Music with a Bachelor of Music and studied with Otto Eifert. Ms. Najarian later studied with K. David Van Hoesen at the Eastman School of Music, where she received a Master of Music in Performance and Literature degree and a Performer's Certificate while serving as a graduate teaching assistant.
What year did you join the ASO?
2005
Favorite composer(s)?
Mozart, Brahms, Mahler
What's the most interesting or difficult facet of your instrument?
The most interesting part of playing the bassoon is that I make my own reeds. The most difficult facet of the bassoon is making my own reeds.
Earliest musical memory?
I remember going to Children's Concerts in the city in which I grew up. I was first fascinated by the bassoon when I saw a friend's sister playing it in the 6th-grade band at the middle school I would attend the following year.
What is your post-concert routine?
Can I say wine?
Most interesting or unusual place you've played a concert?
I played a terrifying concert at the Okefenokee Swamp where we were surrounded by gators. I'm not sure I played a note, I just kept staring at the beasts that were so close to us!