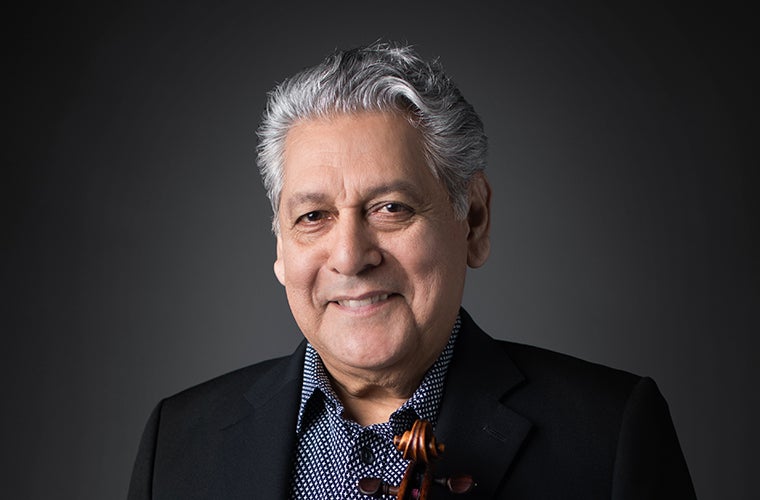 Juan R. Ramírez Hernández
Biography
A central figure in the Atlanta musical community for decades, the violinist, composer and conductor Juan R. Ramírez-Hernández began his musical education in Mexico, later moving to the United States to study with Joseph Silverstein at the New England Conservatory. His studies with Henryk Szeryng began at the age of fourteen, and continued as he became his principal mentor in Mexico, the U.S. and Europe.
Under the tutelage of conductor Leon Barzin, Ramírez was the recipient of both the Serge Koussevitzky and Leonard Bernstein awards at the Tanglewood Music Festival.
Mr. Ramírez has performed and conducted in numerous countries throughout Europe and Asia, as well as in Israel and Mexico. The distinguished composer-conductor Gunther Schuller stated his "unqualified faith in Mr. Ramírez as a violinist and a musical leader of great artistic integrity" and noted that "whatever he undertakes is touched by quality."
He has won numerous awards and honors along the way, including Lexus Leader of the Arts by WABE Public Radio of Atlanta and WPBA Television for "his outstanding contributions, his pursuit of excellence in music and for his initiating and serving several community music organizations in the arts community", the Loridans Arts Award, and the Governor's Award in the Humanities.
Known throughout the state as a music advocator and educator, Mr. Ramírez founded Music for Success! - an educational program under the auspices of the Atlanta Virtuosi Foundation in partnership with metro Atlanta educational institutions, providing string training by professional musicians to young elementary and middle school children of many backgrounds.
He generously volunteers his time, energy and expertise to music students in the Atlanta area and beyond.
In addition to his extensive career as a performer and conductor, Ramírez is also a prolific composer incorporating the sounds of his native Mexico into his works. His compositions include Anahuac for tenor, soprano, winds, strings, and pre-Columbian percussion, commissioned in 1993 by the ACOG –Cultural Olympiad as part of ¡MEXICO! A Cultural Tapestry. Ramírez' Suite Criolla for tenor, soprano, chorus, narrator and orchestra debuted in 1995 at the Hispanic Festival of the Arts, and his Navidad Hispana for solo guitar and orchestra was given its premiere by the Atlanta Symphony Orchestra with the composer as the guitar soloist. Ramírez' Suite Huasteca for violin, strings and guitar earned critical acclaim in both the U.S. and Mexico, and in 2008 received its European premiere in Barcelona, Spain. His Elegy for violin and piano was written in memory of the Holocaust and received its world premiere at the Temple in Atlanta during the 70th commemoration of "Kristallnacht" 1938-2008 the Day of the Broken Glass. Ramírez was featured as guest composer for his US world premiere of Suite Latina for string quartet and string orchestra at the Bellingham Festival of Music, Washington.
Mr. Ramírez has been a member of the Atlanta Symphony Orchestra since 1974 and is the founder and artistic director of the Atlanta Virtuosi Foundation, Buckhead Youth Orchestra, Casa de la Cultura-Atlanta, and is music director and conductor emeritus of the Atlanta Community Symphony Orchestra. Many of his commissioned compositions have been world premiered in Atlanta, New York, Budapest, Collonges sous Salève, Geneva and Monaco. His recent Elegy for violin, cello, piano and soprano, composed for the pancreatic cancer research fundraiser ART-CAN, was choreographed and performed with members of the Atlanta Ballet.
Mr. Ramírez has served on the Board of Directors of Childhood Cancer, the Sphinx Organization and the Oglethorpe University Museum of Art, and received the World Chamber of Commerce Cultural International Hero Award. Mr. Ramírez received in 2007 the Martin Luther King, Jr., César Chavez, Rosa Parks Visiting Professor from the University of Michigan, Ann Arbor. He holds the title of "Presidential Professor" at the University of Michigan, the highest honor "given to visiting artists and scholars, recognizing distinguished individuals for their extraordinary achievements." Mr. Ramirez was awarded the League of American Orchestras 2018 Ford Foundation Musician Award for Excellence in Community Service. He is very proud to have been awarded the 2018 Ohtli Award, one of the highest honors from the Mexican Government, recognizing individuals who have "aided, empowered or positively affected the lives of Mexican nationals in the United States and around the world". Recently Mr. Ramírez was awarded by the Georgia Hispanic Chamber of Commerce as one of "The 50 Most Influential Latinos in Georgia."
What year did you join the ASO?
1973-74 Concert Season
What's on your ASO repertoire bucket list?
Revueltas La Noche de los Mayas; Villa-Lobos Amazonas
Why did you choose your instrument?
At the age of four years old, the violin was the instrument that attracted me for the sound and the many colors that are possible to create.
Any famous people in your family?
David Ramírez Hernández, principal tenor of the Mexican National Opera for 12 years.
Do you come from a musical family?
Yes, as number 9 of a family of 10 children, all of us played an instrument. My father was a guitarist and a singer.
Earliest musical hero?
my first teacher, Vladimir Vulfman
What other instrument do you wish you played?
I play many instruments - at least 10!
What do you wish people knew about Atlanta?
The richness of Atlanta's international community.
What's your favorite Atlanta hidden treasure?
Lake Arrowhead