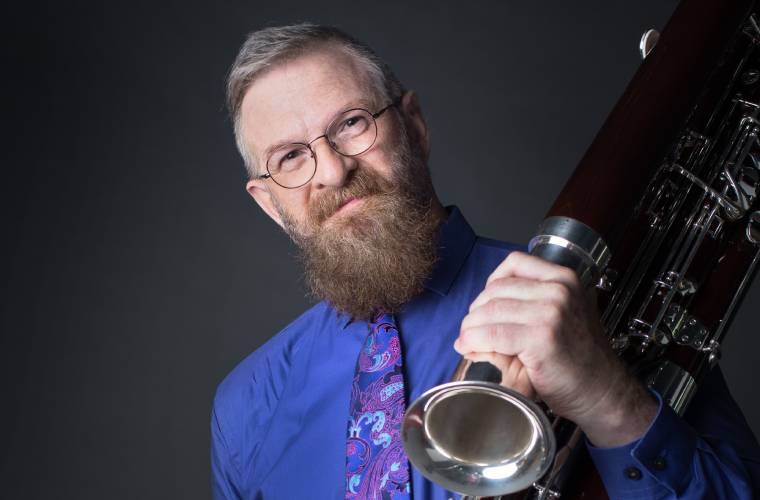 Juan de Gomar
Bassoon/Contra-Bassoon
Biography
Juan de Gomar joined the Atlanta Symphony Orchestra (ASO) as contrabassoonist and bassoonist in 2001.
He continues to perform annually at the Grand Teton Music Festival, and in the past has performed at the Oregon Bach, Cascade, Peter Britt, Ernest Bloch, Oregon Coast, and Aspen music festivals.
Solo appearances have included Hell's Angels with the Oregon Symphony (recorded), the Dorff Contrabassoon Concerto with the Walla Walla Symphony, the Mozart Bassoon Concerto with the Vancouver Symphony (WA), and Der Alte Brummbär with the ASO for Symphony Street Concerts.
In the past, de Gomar has conducted contrabassoon master classes at the Curtis Institute of Music and the International Double Reed Society.
In addition to recording with both the Atlanta and Oregon symphony orchestras, he has also recorded with the Grand Teton and Oregon Bach music festivals, Third Angle New Music Ensemble, and the Bassoon Brothers, a bassoon quartet. Recording Labels include Telarc, Deutsche Grammophon, Delos, Koch, Crystal, Gagliano, Hennsler, and Equilibrium.
De Gomar's many attempts to win the annual Halloween costume contest at ASO Halloween family concerts have turned into a bit of an obsession. Come and check out the next contest to see his next creation!
Before coming to the Atlanta Symphony, de Gomar was the contrabassoonist and bassoonist with the Oregon Symphony for nearly 17 years. He attended Wayne State University and received his bachelor's degree from Temple University. His teachers include Bernard Garfield, Robert Williams, and Leonard Sharrow.
What year did you join the ASO?
2001
Why did you choose your instrument?
It was the most unique instrument I could find, and I wanted it to be a reflection of my personality.
What do you do in your free time outside of work?
Lift weights, listen to Audible, sleep
Earliest musical memory?
Hearing my first professional orchestra concert, Shostakovich 10th Symphony with the Detroit Symphony Orchestra. It was incredible!!
What do you wish people knew about Atlanta?
How amazing and beautiful it is. It IS the most richly diverse and layered city I've ever lived in.
What's your favorite Atlanta hidden treasure?
Piedmont Park
Most interesting or unusual place you've played a concert?
Several prisons in the State of Oregon. Life changing experiences!