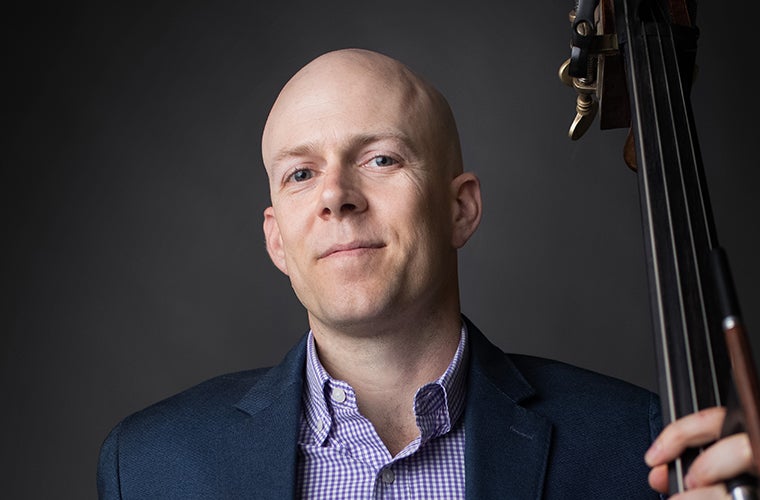 The Marcia & John Donnell Chair
Joseph McFadden
Biography
Joseph McFadden joined the bass section of the Atlanta Symphony Orchestra (ASO) in September 2011 and won the Principal Bass position in 2017.
Prior to his arrival at the ASO, he was Principal Bass of the Alabama Symphony Orchestra. Mr. McFadden has also performed with the Los Angeles Philharmonic, New York Philharmonic, Minnesota Orchestra, Toronto Symphony Orchestra, Milwaukee Symphony Orchestra, and the Nashville Symphony. During his time with the Alabama Symphony, Mr. McFadden performed Bottesini's Double Bass Concerto No. 2 as a featured soloist. During the summer he is a member of the Orchestra for the Cabrillo Festival of Contemporary Music. Mr. McFadden performs chamber music regularly with the Riverside Chamber Players here in Atlanta and has also performed with the Highlands-Cashiers Chamber Music Festival.
A native of Los Angeles, Mr. McFadden received his bachelor's degree from California State University, Northridge, where he studied with Oscar Meza. He completed his master's degree at Indiana University under the instruction of Bruce Bransby. While in Indiana, he served as Principal Bass of both the Indiana University Chamber Orchestra and Symphony Orchestra. He currently serves on the faculty of Kennesaw State University.
Mr. McFadden is a two-time fellowship recipient at the Aspen Music Festival and School, where he studied with Chris Hanulik and Bruce Bransby and performed throughout the summer with the Aspen Chamber Symphony. Mr. McFadden plays on a bass he commissioned from Chris Threlkeld, which was finished for him in October of 2009.
What year did you join the ASO?
2011
What's on your ASO repertoire bucket list?
Stravinsky Symphony of Psalms, Bach 2nd Orchestral Suite, Stravinsky Symphony in 3 Movements
Why did you choose your instrument?
My mom plays Bass Guitar. So she taught me to play when I was about 7 or 8. Then took up Double Bass a couple years later.
What's the most interesting or difficult facet of your instrument?
Lugging it around
Do you come from a musical family?
My dad is a songwriter, singer, guitar player, and piano player. My mom currently sings in a band and also plays Bass guitar. My brother is a guitar player, songwriter, and singer.
What's your favorite Atlanta hidden treasure?
Gios Chicken!
What is your go-to karaoke song?
"Anna" cover by The Beatles