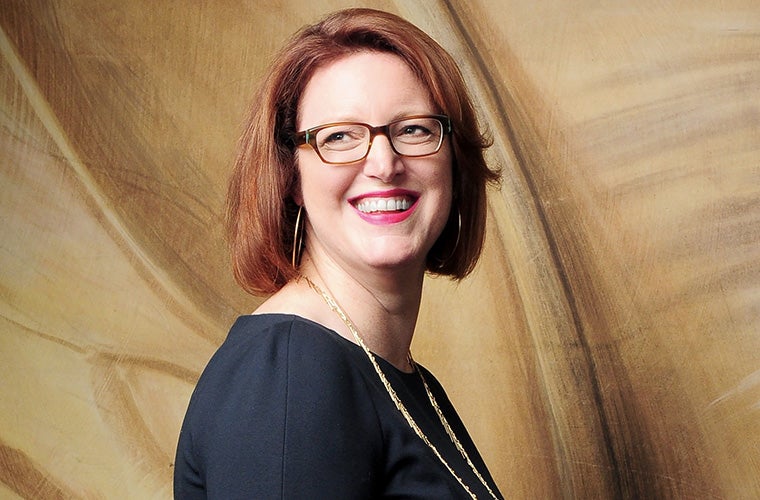 Executive Director
Jennifer Barlament
Executive Director
Biography
Jennifer Barlament joined the Atlanta Symphony Orchestra in January 2016 as Executive Director. Together with Music Director Robert Spano, Jennifer will continue to define and execute the strategic vision for the Atlanta Symphony Orchestra, both artistically and financially, while engaging key audiences to make that vision a reality.

Jennifer has more than 15 years of experience leading orchestras across the country, most recently as General Manager of the Cleveland Orchestra, where she has served since 2013. In Cleveland, she managed the operations of the Orchestra and its two performance venues, Severance Hall and the Blossom Music Center.

A lifelong musician, Jennifer previously served as Executive Director of the Kalamazoo Symphony Orchestra and General Manager of the Omaha Symphony. In 1998, Jennifer was accepted into the highly competitive Orchestra Management Fellowship Program of the League of American Orchestras. She worked in all aspects of orchestra management during Fellowship assignments with the San Francisco Symphony, the New Jersey Symphony, and the Detroit Symphony. Following the Fellowship, she returned to the Detroit Symphony as Director of Special Projects and was then appointed Concert Manager of the Baltimore Symphony.

Jennifer earned her Bachelor's degree in music with a minor in physics at Emory University, where she received awards for both music and academic performance. She earned a Master's degree in clarinet performance from the Eastman School of Music in Rochester, NY, where she also founded the New Eastman Symphony. In 2013, Jennifer was the recipient of the League of American Orchestras' prestigious Helen M. Thompson Award, given every two years to an early-career executive director.

Jennifer resides in the Midtown area with her husband Kenneth Potsic, a bassoon repair and restoration specialist, and their son David.
When I was playing the clarinet, I could influence my one line. But when I was managing the orchestra, I felt a sense of contribution to the whole group.

– Jennifer Barlament
Jennifer Barlament comes to the Atlanta Symphony Orchestra after serving for more than 15 years leading orchestras across the country, most recently as General Manager of The Cleveland Orchestra since 2013. We caught up with Barlament to ask a few questions as she takes on the new role.

How did you get started studying music and what inspired you to pursue a career in it?
I studied clarinet, starting in band in elementary school. I was a serious clarinetist and I also played violin for a few years. As an undergraduate at Emory University, I double-majored in physics and music and was gradually drawn more and more into music. During my junior year, I had the realization that my head was in physics, but my heart was in music. With the encouragement of my teachers, some of whom were members of the Atlanta Symphony and still are today, I decided to pursue my dream. From Emory, I went to the Eastman School of Music and received a master's degree in clarinet performance, focusing on performing at a high level. Eastman is also where I was introduced to orchestra management, and where I ultimately made my career switch.

What interested you about making that switch? What caught your interest about the management side of things?
I went to graduate school to pursue my dream of becoming the principal clarinetist of a major orchestra. Of course, every music student dreams of having a position in an orchestra. However, I have always been someone who has many things going on and when I arrived at Eastman, I missed the variety of activities I enjoyed at Emory. I quickly got my fingers into starting an orchestra for graduate students. It was originally intended to be an opportunity for students to play standard repertoire so we could be prepared for orchestral auditions. It gradually became more serious, and we decided to expand the experience to be a practicum for the real world of professional orchestras. We had a team of students that managed the orchestra; we planned educational residencies, performed concerts in the community, and we focused on off-campus performance opportunities. This was my foray into orchestra management, which I thought provided the perfect opportunity to merge my passion, skills and experience. When I was playing the clarinet, I could influence my one line, but when I was managing the orchestra I felt a sense of contribution to the whole group. With this fortuitous experience under my belt, I decided to pursue orchestra management as a career.

Is there anything specific that intrigued you about the position of Executive Director of the Atlanta Symphony Orchestra?
When I was a student at Emory, I attended Atlanta Symphony Orchestra concerts regularly. It was a time of exploration and discovery for me and it's where I fell in love with orchestral music. I also fell in love with the Orchestra. The Atlanta Symphony Orchestra musicians have an incredible sense of warmth in their playing, as well as great precision. Artistically, it is a wonderful ensemble with an interesting, significant voice. I was attracted to the Orchestra's dual history. It has a spiritual history under Robert Shaw and also an up-to-the-minute, forward-looking way of thinking about its place in the music world. Since I've been gone, I have continued to follow the news about the Orchestra and listen to the recordings. Robert Spano is an incredible musician and I've always admired his work. The chance to work with him was definitely a draw. And of course, the Atlanta Symphony Orchestra Chorus is simply one of the finest choral groups in the world. I was also intrigued by the Orchestra's position as part of the Woodruff Arts Center, which poses a great opportunity for collaboration across the artistic disciplines. Since accepting this position, I've learned even more about the organization and I believe we are poised for greatness. I'm excited to be a part of the next chapter!

You have roots and family here in Atlanta, what are you most looking forward to once you've settled in?
I'm looking forward to seeing my family on a regular basis. My parents live in Dahlonega and my brother and sister-in-law in Athens. Some other things I've been pining for are hearing great Georgia accents, eating Southern food, revisiting old haunts, reconnecting with people at Emory, hiking in the North Georgia mountains, and visiting the Savannah area (where I grew up). And after a couple of decades in the great snowy North, I'm really looking forward to an Atlanta winter!

When you're not working, what are some of your favorite non-music activities or hobbies?
We have a five-year-old son named David, who is our top priority. I also love to read, bike, hike and run. My husband and I also enjoy restoring old houses.

Do you have a favorite piece of classical music?
This is an unfair question! I have so many favorites. I tend to gravitate towards chamber and vocal music when I listen on my own. While I have a lot of favorite orchestral pieces, I'm a big fan of Renaissance Motets. John Dowland's "Come Again" is one of my favorites. I'm also a big fan of German lieder. Richard Strauss's songs are some of my favorites.

What has been the most memorable or impactful experience of your career to date?
That is hard to pin down. I will mention a few moments that stand out. One of my first spiritual musical listening experiences was a performance of a Mozart concerto by the great pianist Radu Lupu performing with the Atlanta Symphony Orchestra. I remember thinking, 'I hope this is what heaven is like.' It was an incredible experience. That is the first time I can remember being deeply moved at an orchestral concert. Some other highlights include seeing the Musikverein in Vienna for the first time and being part of the opening of the new concert hall, the Holland Performing Arts Center, in Omaha in 2005. At the Kalamazoo Symphony, it was eye-opening to see the power of music at work through the orchestra's extensive education programs. More recently, hearing The Cleveland Orchestra any time is an incredible experience. Having been a part of everything the Orchestra has done for the past few years has been a tremendous privilege. Hearing the Atlanta Symphony Orchestra and Chorus perform the Verdi Requiem recently was a goose bump moment for me. I love the Orchestra, I love the Chorus, and within the context of this musical homecoming for me, that was a true highlight.