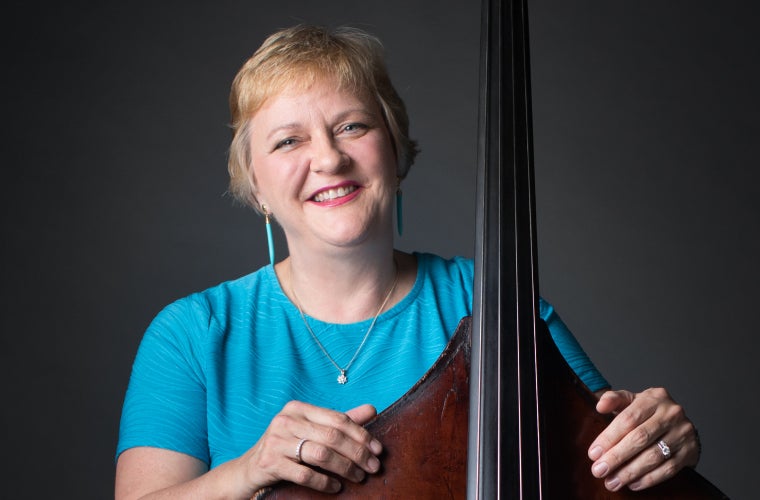 The Lucy R. and Gary Lee Jr. Chair
Gloria Jones Allgood
Associate Principal Bass
Biography
Gloria Jones Allgood joined the Atlanta Symphony Orchestra at age 20 in 1984, just before completing her Bachelor's Degree in Double Bass Performance at The University of Michigan.
Born into a musical family in Greenville, SC, she studied violin and piano until age 12 when she started studying the bass. She was a member of the Greenville Symphony Orchestra for five years before college, soloing with the Charleston Symphony Orchestra at age 14. Six of her summers were spent at Interlochen Center of the Arts, studying with Lawrence Hurst, Oscar Zimmerman, and Jack Budrow. She also studied with her late husband, Atlanta Symphony Orchestra Principal Bass Ralph Jones for two years in high school. While at The University of Michigan, Allgood was Principal Bass of the Flint Symphony Orchestra from 1982-1984, and she received the Mitslav Rostropovich Award for Outstanding Musicianship. She studied on Full Fellowship at the Aspen Music Festival in the summers of 1983 and 1984, studying with Stuart Sankey.
Joining the Atlanta Symphony Orchestra as a section player, she was promoted to Assistant Principal in 1989 and to Associate Principal in 2001. Additionally, she served as Acting Principal Bass during the 2013/14 and 2014/15 seasons. She teaches privately, coaches the Atlanta Symphony Youth Orchestra, participates in the Talent Development Program and has performed in many chamber music groups around Atlanta. She presently holds the Lucy R. and Gary Lee Jr. Associate Principal Bass Chair.
Gloria Jones Allgood is married to musician and recording engineer William Allgood.
What year did you join the ASO?
1984
What's the most interesting or difficult facet of your instrument?
I love supporting the orchestra, giving it depth of sonority. I do find it an inconvenience to transport my bass, but thank goodness I have wheels that help a lot!
What do you do in your free time outside of work?
I teach quite a few private bass students, but the rest of the time, I pretty much run our household which includes two cats. I love watching certain shows on HGTV and also enjoy Forensic Files.
Cats or dogs?
Two cats named Prince and Midi.
Any famous people in your family?
My husband, Bill Allgood, is very well-known in the bassoon world as well as the recording/media industry. He designed a bocal for the bassoon (the curved metal tube leading to the reed) which made high notes easier to play.
Do you come from a musical family?
Yes! My father and mother both played and taught piano, plus they both played organ. My mother sang in the church choir and tried cello and flute. My brother played guitar and sang. I grew up hearing classical music!