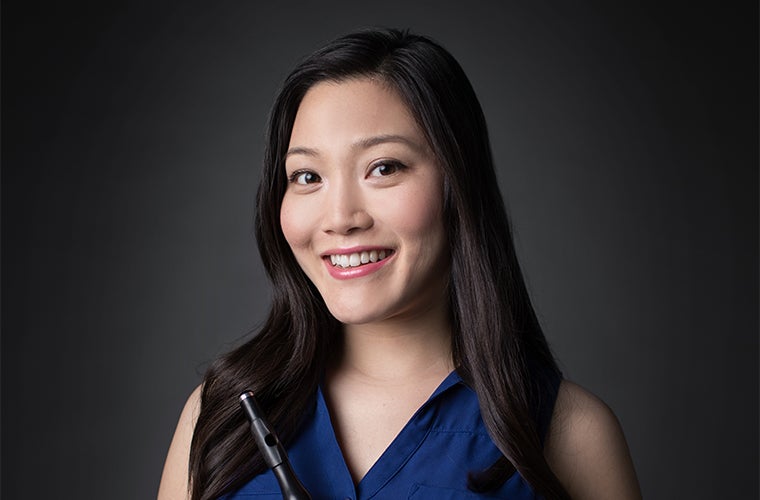 Gina Hughes
Flute, Piccolo
Biography
Gina Hughes joined the Atlanta Symphony Orchestra as piccolo and flute during the 2016-17 season. Prior to joining the ASO, she played second flute with the Houston Symphony for two years and can be heard on their recent recording of Dvořák's Eighth Symphony. She also appeared as guest flute and piccolo with the Dallas Symphony and the Louisiana Philharmonic. In the summer of 2016, she played piccolo with the Central City Opera in Colorado.
As a soloist, Mrs. Hughes performed the Nielsen Flute Concerto as a competition winner at Music Academy of the West in Santa Barbara, California and won first place at the Young Texas Artists Competition. She was also a fellow at the Kent Blossom Festival with the Cleveland Orchestra and the Round Top Festival Institute. Mrs. Hughes completed her undergraduate degree at the Manhattan School of Music with Robert Langevin, principal flutist of the New York Philharmonic, and received her master's from Rice University with Leone Buyse of the Boston Symphony.  
In addition to playing piccolo and flute, she enjoys sewing clothes and quilting, cooking (especially Korean food) and spending time with her husband, who is also a musician.
What year did you join the ASO?
2017
What's the most interesting or difficult facet of your instrument?
The piccolo has the highest voice in the orchestra and also has a very bright sound which carries easily. I often tell people that every note I play is heard, which is both nerve-wracking and exhilarating. This also exacerbates the problem of pitch and tuning, which is already a challenge on the piccolo because the margin for error is very narrow considering the high frequency.
Earliest musical memory?
As a child, I remember waking in the mornings to the sound of classical music playing on the radio. My dad would blast the classical station throughout the house regularly. My parents also took me to see a number of operas as a child. I particularly remember watching Korean coloratura soprano, Sumi Jo, singing the Queen of the Night aria from Mozart's Magic Flute.
What's your favorite Atlanta hidden treasure?
Buford Highway has an abundance of hole in the wall restaurants.
Favorite time of year to get outside?
Fall. This Southern California girl isn't getting tired of the Fall foliage any time soon!