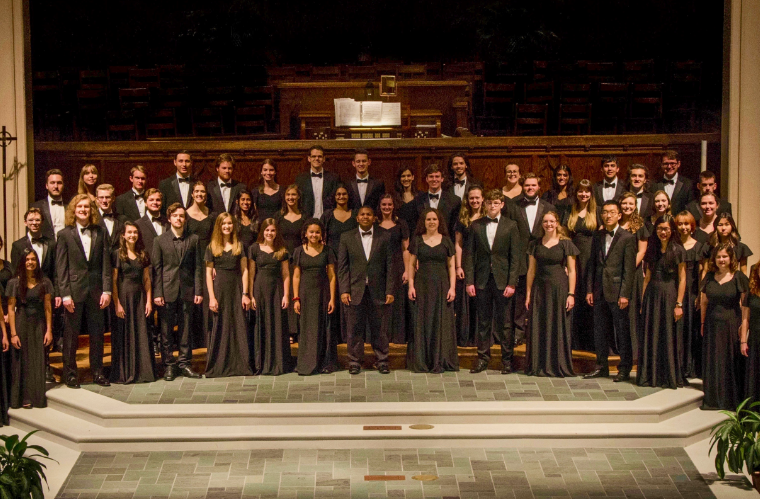 Georgia Tech Choirs
Biography
Founded in 1998, the Georgia Tech Chamber Choir is one of the premiere college vocal ensembles in the Southeastern US. Its members are auditioned, all-state-level singers with extensive backgrounds in choral music.

Repertoire varies and includes large and small works in the standard repertoire (both unaccompanied and with instruments) modern music, world music, and experimental music with extended technique. Recent performances have included major works by J.S. Bach (St. John Passion, B Minor Mass, Magnificat, all six motets), Handel (Messiah Dublin version, Israel in Egypt, Dixit Dominus, Coronation Anthems, Chandos Anthems), Bartók (Cantata Profana and Carmina Burana), Bernstein (Chichester Psalms and Missa Brevis), and masses by Stravinsky, Bruckner, Byrd, and Mozart.

Chamber Choir was recently featured at the College Music Society National Conference and served as the chorus in the Atlanta Ballet production of Mozart's Magic Flute. Over the years, they collaborated with the Atlanta Baroque Orchestra, Atlanta Ballet, Atlanta Wind Symphony, and the High Museum of Art. The Chamber Choir was recently featured with the Atlanta Symphony Orchestra in a production of Harry Potter: Prisoner from Azkaban, and in four sold-out performances as the backup choir for the Eagles on their 2020 and 2022 Hotel California tours. In 2018, the Chamber Choir traveled to Cyprus at the invitation of the US Embassy in Nicosia, where they performed twenty concerts across the island.