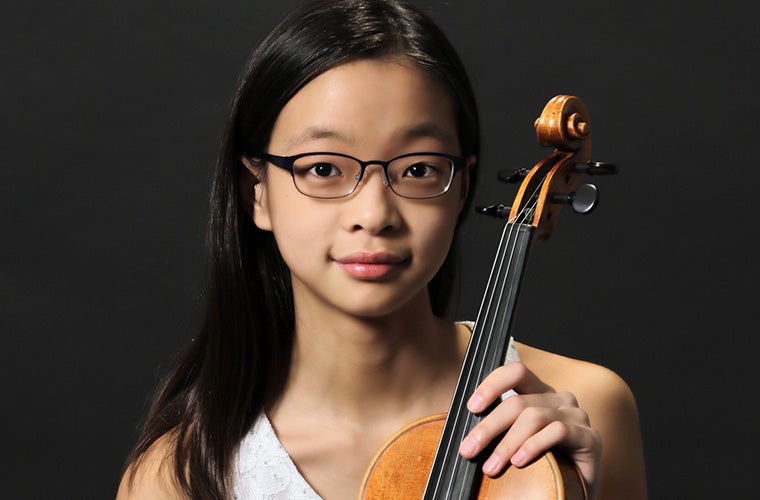 Violin
Eugenie Lim
Atlanta Symphony Youth Orchestra
Biography
Eugenie Lim is a brilliant fifteen year old award winning violinist from Kennesaw, Ga. who is one of the winners of the 2022 ASYO Concerto competition. A member of ASYO since she was in 8th grade, she was chosen Concertmaster of the Georgia 9-10 All State Orchestra, 2022.

Eugenie is a student of Sonja Foster, an alumna of The Curtis Institute and The Juilliard School, and has been since she was seven years old. She made her solo orchestra debut with the Atlanta Community Orchestra at the age of 10, in 2017, as the Winner of the Ruth Kern Competition of the Atlanta Music Club. In September, 2019, Eugenie soloed with the Gulf Coast Steinway Society Orchestra, as the winner of the Junior Division of their Concerto Competition. In Nov. of 2019, Eugenie won First Place in the Apprentice Division the Samuel Fordis Young Artist Concerto Competition of the Georgia Philharmonic and soloed with them in February 2020. She also won First Place in the Alpharetta Symphony Concerto Competition and soloed with them on March 2020.

A highly focused young artist, Eugenie soloed in 2017 at Carnegie Hall, Weill Recital Hall, in New York as a result of winning the American Protege Competition. She was the 1st Place Winner of the MTNA/GA. Junior Strings Division in 2017, 2018, & 2020 and performed at the Regional Finals in Virginia in 2017. She has won the GMTA Outstanding Performer/ Conference Recitalist in Georgia many times and as a result has performed on the Winners recital at the GMTA Conference.

Eugenie has studied and performed chamber music for several years with the Vegas String Quartet at Emory University, and is currently in the Franklin Pond Chamber Program.