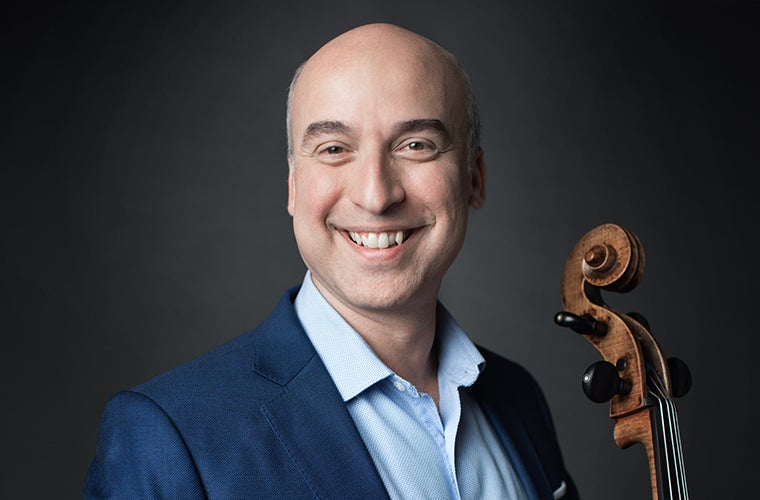 The Livingston Foundation Chair
Daniel Laufer
Acting/Associate Principal Cello
Biography
Daniel Laufer joined the Atlanta Symphony Orchestra in 1991 and currently holds the position of Acting Principal Cello.
Daniel Laufer began studying cello with his father, Wolfgang Laufer, former cellist of the Fine Arts Quartet. He attended the North Carolina School of the Arts, where he studied with Robert Marsh and performed as a soloist and chamber musician on two European tours with the International Music Program. Laufer continued his studies with his father and mother at the University of Wisconsin in Milwaukee. He won a section position with the Dallas Symphony Orchestra (DSO) at age 18 and joined a year later under Eduardo Mata. After two years with the DSO, Mr. Laufer joined the ASO as the Associate Principal Cello.
A regular chamber music performer, Laufer was a founding member of the Emory Chamber Music Society of Atlanta and the Franklin Pond Chamber Music Program. He has performed at chamber music festivals, such as the Kfar Blum Chamber Music Festival in Israel, the Barge Chamber Music Series in New York, the Highlands Chamber Music Festival, Amelia Island Chamber Music Festival, the Amalfi Coast Festival in Italy, and the prestigious Pablo Casals Festival in Prades, France. Mr. Laufer has collaborated with artists such as Yo-Yo Ma, Sadao Harada, Robert Spano, Donald Runnicles, Alan Gilbert, James Ehnes, and Pinchas Zukerman, among others, and has performed on many occasions as a guest with the Fine Arts Quartet both in the United States and abroad.
As a soloist, Mr. Laufer performed and recorded in 1991 Ott's Concerto for Two Cellos with his father and the Milwaukee Symphony Orchestra for the Koss label. Other solo performances have taken place with the Dallas Symphony, a number of appearances with the Atlanta Symphony Orchestra, and numerous community orchestras over the years.
Since 2012, Mr. Laufer has enjoyed being associated with the Grand Teton Music Festival as Principal Cellist under Maestro Donald Runnicles and enjoying chamber music performances at the summer festival.
What year did you join the ASO?
1991
Why did you choose your instrument?
I grew up listening to my father, Wolfgang Laufer, play the cello. I got to listen to chamber music rehearsals and orchestra rehearsals as a child when my father was Principal Cellist of the Hamburg Philharmonic and Opera and Principal Cello at the famous Bayreuth Wagner Festival.
What do you do in your free time outside of work?
When I have free time, which is not often, I like to practice flying on my flight simulator at home. I enjoy traveling with the family and love going to the gym.
What other instrument do you wish you played?
Piano - I would have loved to be able to play pieces by myself.
Most interesting or unusual place you've played a concert?
One was performing at the Casals Festival in Prades, France. The other, the MTV 10th Anniversary special where a handful of my ASO colleagues and I played "Losing My Religion" with R.E.M.