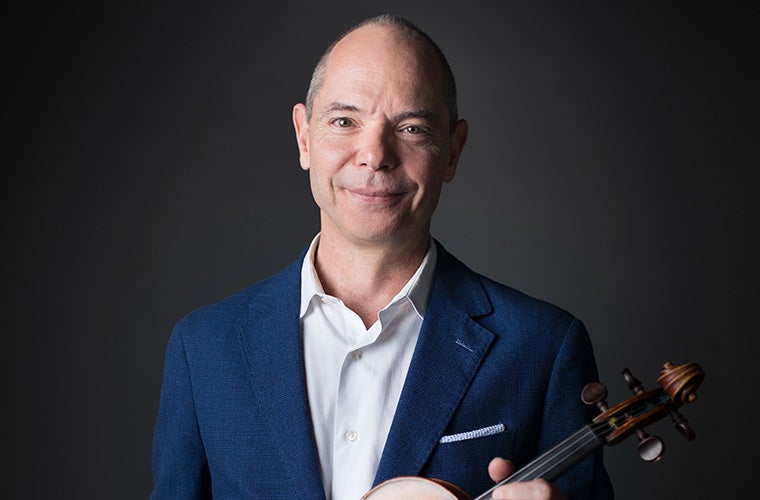 Christopher Pulgram
Biography
Founder and director of the Peachtree String Quartet, Christopher Pulgram has been a first violinist with the Atlanta Symphony Orchestra since 1992, and has recorded extensively with the Orchestra. Since 2007, he has also been the concertmaster of the Wintergreen Festival Orchestra.
He performed in Europe and the U.S. as principal violinist with the Zurich Chamber Orchestra and as a soloist with orchestras in the U.S., Switzerland and Italy, including 2001, 2003 and 2005 performances with the DeKalb Symphony Orchestra. Mr. Pulgram has served as concertmaster of the Elysium Chamber Orchestra in Atlanta and as assistant concertmaster for the Atlanta Symphony Orchestra for two years. He has recorded with Usher and the group Collective Soul on its "Dosage" album. Mr. Pulgram recently recorded with Bruce Springsteen.
Mr. Pulgram graduated under the tutelage of Ruggiero Ricci from the University of Michigan's School of Music, where he received the Norman F. Maier Distinguished Music Student Award. As winner of the Atlanta Pro-Mozart Society Competition, Mr. Pulgram attended the Mozarteum in Salzburg, Austria, where he coached with Sandor Vegh. After studies at the International Menuhin Academy in Gstaad, Switzerland, Christopher Pulgram toured Europe, Scandinavia, Canada and the Far East, performing as soloist and chamber musician with Yehudi Menuhin and Camarata Lysy. He has recorded on the EMI label with Maestro Menuhin at the Abbey Road studios in London. Mr. Pulgram was the violinist of the Atlanta Chamber Players for 15 seasons, and has recorded extensively with that ensemble.
What year did you join the ASO?
1992
Why did you choose your instrument?
I can't remember! I think it was to fit in and I was just having fun. My brothers and sister all played a string instrument and I am the youngest of four children. My mother was an amateur violinist and she encouraged me to get started.
What do you do in your free time outside of work?
I like cycling, sailing and sailboat racing, collecting wine, cooking, gardening, teaching and traveling.
Earliest musical memory?
Memorizing the names of the strings on the violin, G,D,A and E and telling my Mom all about it!
Earliest musical hero?
Yehudi Menuhin
What's your favorite Atlanta hidden treasure?
Alexander Park.
Most interesting or unusual place you've played a concert?
On the steps of an ancient Buddhist temple in Chiang Mai, Thailand. I performed there, I'm not sure it was a "concert".