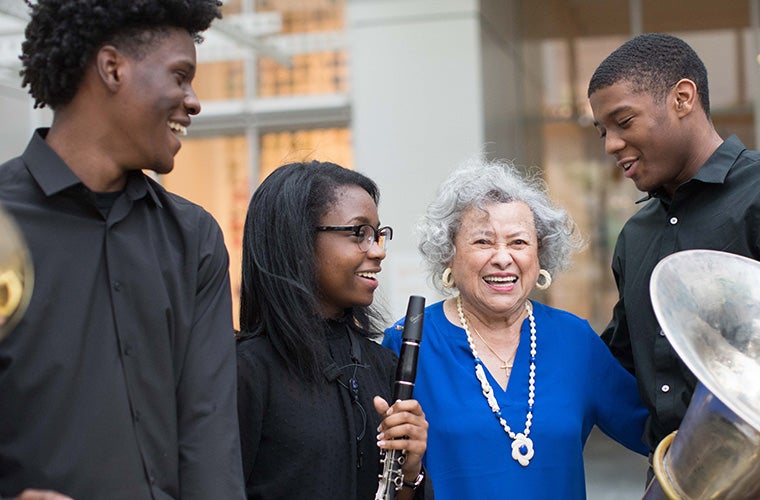 Azira G. Hill
Co-Founder, Atlanta Symphony Orchestra Talent Development Program
Biography
A Cuban immigrant, Azira G. Hill moved to Atlanta to pursue an education and earned a degree in nursing from Grady Memorial Hospital School of Nursing where she was a staff nurse and clinical instructor. While in Atlanta, Azira met and married her husband, Jesse Hill.

Shortly after becoming a U.S. citizen in 1960 she felt it was her responsibility to give back. Her lifelong love of music, inspired by her large musical family in Cuba and her own children's musicianship in Atlanta, eventually led her to volunteer at the Atlanta Symphony Orchestra. She served as co-chair of the Atlanta Symphony Associates' (ASA) Action Committee for Audience Development in the Black Community.

On September 13, 1993, Mrs. Hill hosted 11 young musicians in the inaugural concert and induction ceremony of the ASO's Talent Development Program (TDP), which she founded earlier in 1993. Today, 25 years later, under Hill's leadership, the Talent Development Program has become a model among other arts organizations nationwide to curate diverse musicianship and has helped nurture nearly 100 young musicians to earn slots at top music schools, such as The Juilliard School, Curtis Institute of Music, Manhattan School of Music and the Peabody Institution, and pursue careers in orchestras, teaching and performance.

Key to developing these young classical musicians is Hill's model of mentorship, which goes beyond private lessons and audition preparation to include family education, life skills training and financial assistance for intensive summer music programs.

Her involvement and affiliations span a wide spectrum of activities, including the following boards: Founder of the Atlanta Symphony Orchestra's Talent Development Program, former member of the Center for Puppetry Arts board, Southeastern Flower Show, Black Women's Agenda, former member of the Board of Literary Action board, St. Joseph Mercy Care, Urban League Guild, and Planned Parenthood. She is a member of Atlanta Quettes, Circle — Lets, Inc., and the Inquirer's Literary Club. She is a member of Big Bethel A.M.E. Church, a Golden Heritage Life Member of the NAACP, Life Member of the National Association of School Nurses, and a Life Member of the National Council of Negro Women.