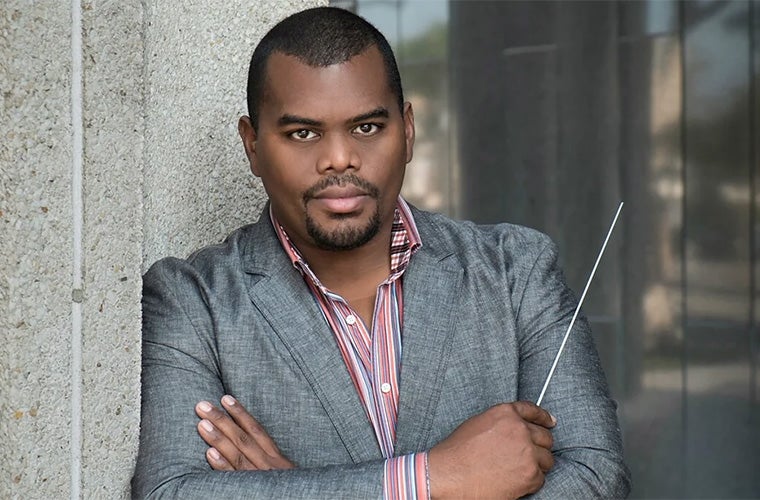 Conductor
Anthony Parnther
Biography
American conductor Anthony Parnther is the Music Director and Conductor of the San Bernardino Symphony Orchestra and the Southeast Symphony & Chorus in Los Angeles. Anthony has conducted artists spanning every musical genre including Joshua Bell, Jessye Norman, Yundi Li, Lynn Harrell, Frederica von Stade, Roderick Williams, Canadian Brass, Jennifer Holliday, Kanye West, Imagine Dragons, Omar Apollo, and Alan Walker. Recent guest conducting engagements include the Los Angeles Philharmonic, Philadelphia Orchestra, Atlanta Symphony, Chineke! Orchestra, Simfònica de Barcelona i Nacional de Catalunya, Jacaranda - Music at the Edge, Hear Now Music Festival, Pittsburgh Microtonal Festival, Hollywood Chamber Orchestra, Brightwork New Music, and the World Opera Forum in Madrid, Spain.
Over the next season, Anthony will premiere Kris Bower's Concerto for Horn with the Los Angeles Philharmonic, Tamar-Kali Brown's Oratorio "We Hold These Truths" with the Los Angeles Opera, work alongside composer Anthony Davis on his Pulitzer Prize-winning opera Central Park Five with the Long Beach Opera, and premiere a new work for narrator and orchestra by Oscar-winning, GRAMMY-nominated Jon Batiste, host of The Late Show with Stephen Colbert with the Gateways Festival Orchestra at Carnegie Hall.
Additionally, Anthony will appear with the San Francisco Symphony, Seattle Symphony, Baltimore Symphony, Cincinnati Symphony, Atlanta Symphony, San Diego Symphony, Buffalo Philharmonic, Virginia Symphony, Mann Center Festival Orchestra, Rochester Philharmonic, and Music Academy of the West.
Anthony has led the Hollywood Studio Symphony in recording sessions for many international feature film and television projects including Star Wars: The Mandalorian, Tenet, Little, American Dad, The Hunt, Fargo, The Way Back, The Night Of, Ghostbusters: Afterlife, Encanto, Star Wars: Book of Boba Fett, and Ice Age: Adventures of Buck Wild. His live orchestral concert appearances for e-sports titan League of Legends in Barcelona, Beijing, Seoul, and Los Angeles are among the most widely viewed symphonic concerts in the world, with live audiences of 50,000-75,000 spectators and a viewership that outpaces the World Series with approximately 100 million live streaming each League of Legends Finals Opening Ceremony concert.
Anthony has restored and performed orchestral works by Florence Price, Zenobia Powell Perry, Margaret Bonds, William Grant Still, Duke Ellington, and Samuel Coleridge Taylor. He has premiered and recorded works by Anthony Davis, George Walker, Errollyn Wallen, John Wineglass, Gary Powell Nash, Marian Harrison, Renee Baker, James Wilson, Phillip Herbert, Daniel Kidane, Chanda Dancy, and James Newton. In 2015, Anthony was profiled by Los Angeles' KCET/ TV as a "Local Hero" for his extensive community outreach and advocacy for the performance of works by Black, Latino, and Women artists.
Anthony studied music performance at Northwestern University and continued his musical studies at Yale University where he studied orchestral conducting with Lawrence Leighton Smith and OttoWerner Mueller. He resides in Los Angeles and Palm Springs.
Photo Credit: Konstantin Golovchinsky