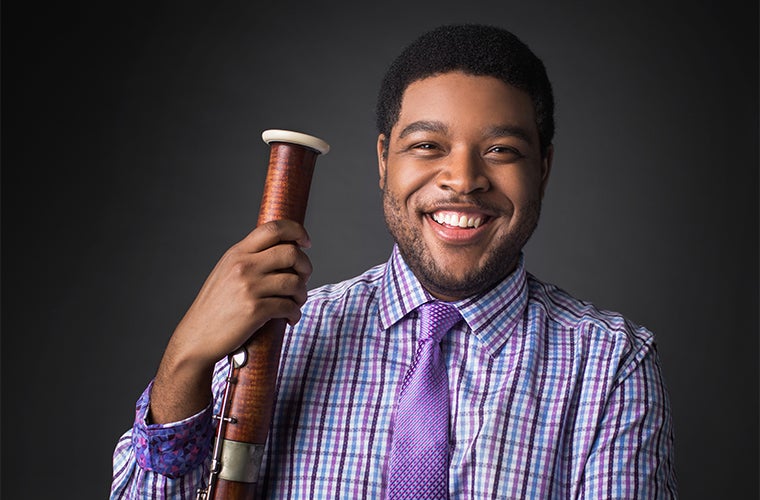 The Abraham J. & Phyllis Katz Foundation Chair
Andrew Brady
Principal Bassoon
Biography
Andrew Brady joined the Atlanta Symphony Orchestra in January 2016 as Principal Bassoon. Brady was formerly Principal Bassoonist with the Louisiana Philharmonic, a position he held since 2013.
Brady is from Johnson City, TN, where he began his musical studies on saxophone but was drawn to switch to bassoon at age 14, after seeing the quirky instrument at a band clinic. Four years later he performed on NPR's From the Top; and in 2010 he received the Grand Prize in the Pasadena Showcase House for the Arts Competition, adjudicated by members of the Los Angeles Philharmonic. In January 2011, Brady performed Mozart's Bassoon Concerto with the Seattle Symphony under invitation from then Music Director Gerard Schwarz. While in Seattle, he gave free public concerts as well as interactive demonstrations in area schools.
An active soloist, Brady has performed concertos by Mozart, Weber, and Zwilich with the Southeast Symphony, the Los Angeles Doctor's Symphony, and The Colburn Orchestra, respectively. Enthusiastically involved in music education, he has worked as a teaching artist with the Harmony Project's Youth Orchestra Los Angeles program, where he assisted underserved teens in learning to play bassoon.
Brady has appeared with the Los Angeles Opera Company orchestra, and recently with the Orpheus Chamber Orchestra of New York in Carnegie Hall and abroad on European tours. He has attended many music festivals including Sunflower Music Festival, Music Academy of the West, and the Tanglewood Music Center. Brady received his Bachelor of Music degree from The Colburn School Conservatory of Music, where he studied with Richard Beene. Other teachers include Anthony Parnther, Rick Ranti and Suzanne Nelsen.
What year did you join the ASO?
2016
Why did you choose your instrument?
I thought it looked cool and challenging. All those thumb keys and archaic fingerings!
What's the most interesting or difficult facet of your instrument?
All the thumb keys and archaic fingerings! But seriously, I think the most difficult part of playing bassoon is the reed making. It's a big-time investment, during which I'd rather be practicing, but without a good reed, all the practicing doesn't count for much. The reed is the biggest part of a bassoonist's sound.
Do you come from a musical family?
Absolutely! Everyone in my family has a nice voice, and a couple of my aunts have used theirs singing on Broadway! Music was always a part of my upbringing. I was steeped in it.
Earliest musical memory?
My mother taking me to Kindermusik. I loved getting to learn about and take home different musical instruments. I also used to perform "concerts" for family friends on our front porch. I'd invite them over after church (without my parents' knowledge) and usually just give a review of the songs the choir had already sung that day in service.