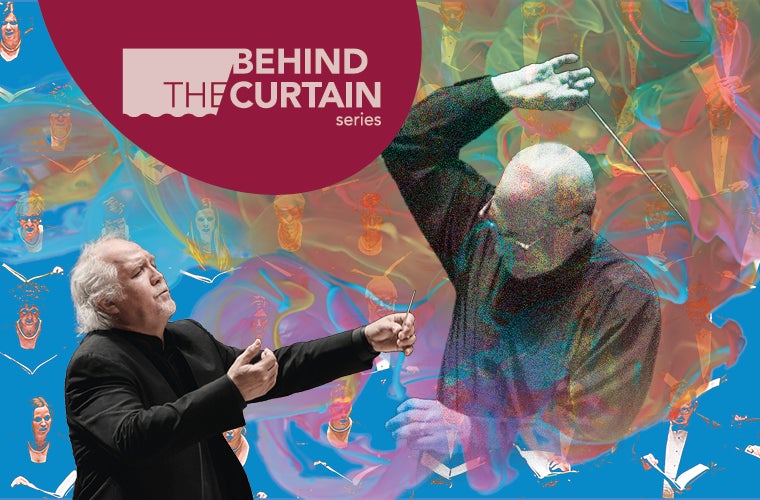 Special
Behind the Curtain Release: Robert Spano and Donald Runnicles Conduct
Date

May

20

, 2022

Event Starts

5:00PM

Venue

Virtual Stage
Buy Tickets
May
20
, 2022

Friday
at 5:00PM
About
Enjoy your favorite concerts all season long. The ASO's virtual Behind the Curtain series lets you watch electrifying programming and world-class artistry from the comfort of your home.
Current subscribers and Behind the Curtain virtual members are notified via email when new performances are available for viewing.
Releasing Today: Looking to the East, Maestro Spano conducts Rimsky-Korsakov's classic Scheherazade, the story of the crafty wife of the sultan who spins epic tales with cliffhanger endings for 1,001 nights. Rimsky-Korsakov paints an elaborate picture of Arabian nights — you can almost smell the spices at the bazaar!

Principal Guest Conductor Donald Runnicles is well known for his interpretations of the French catalogue, and it is always a joy to watch (and hear) him conduct Debussy and Duruflé, and this performance is no different as he presents Debussy's first major orchestral work, Prelude to the Afternoon of a Faun.

Then the ASO Chorus performs the incredibly moving Duruflé Requiem, one of the most beautiful versions of the Latin Mass for the Dead. Unlike other Requiems, Duruflé moved away from dramatic, opera-like moments and instead wrote a peaceful, quiet, reflective mass that focuses on images of heaven rather than hell. With melodies derived from Gregorian chant, Duruflé's Requiem is as moving as it is contemplative.