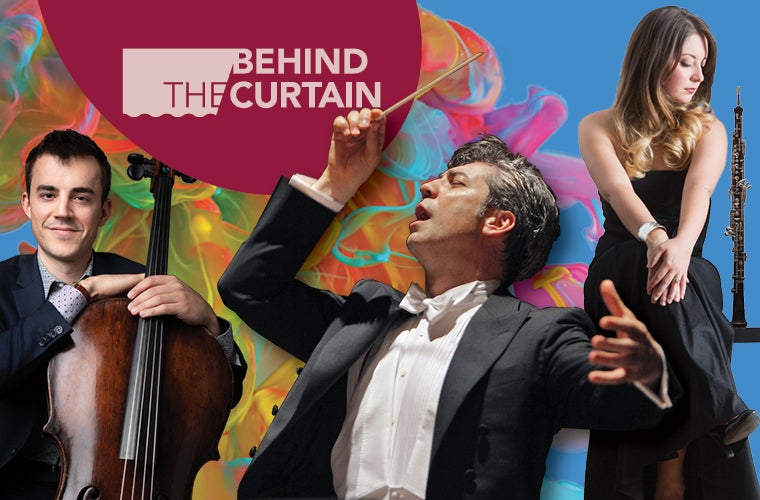 Special
Behind the Curtain Release: Rainer Eudeikis, Verdi, and Elizabeth Koch Tiscione
Date

July

1

, 2022

Event Starts

5:00PM

Venue

Virtual Stage
Buy Tickets
July
1
, 2022

Friday
at 5:00PM
About
Enjoy your favorite concerts all season long. The ASO's virtual Behind the Curtain series lets you watch electrifying programming and world-class artistry from the comfort of your home.
Current subscribers and Behind the Curtain virtual members are notified via email when new performances are available for viewing.
Releasing Today: Shostakovich wrote his Cello Concerto No. 1 for his close friend Mstislav Rostropovich, the famous virtuoso and Soviet dissident. In the hands of ASO Principal Cello Rainer Eudeikis, audiences will be able to hear the brilliance of both composer and muse all the way to the fiery conclusion. And with a nod to William Shakespeare, Alexander Soddy conducts Anna Clyne's Sound and Fury, a recent work inspired by Haydn.

The next released performance begins with Act III from Rigoletto, an acknowledged masterpiece that demonstrates Verdi's complete grasp of his musical materials. Court Jester Rigoletto had a secret: a daughter named Gilda. But, the roving eye of his employer, the licentious Duke of Mantua finds her, woos her in disguise as a poor student and has her kidnapped. Rigoletto puts a curse on The Duke, vows revenge and contracts the assassin Sparafucile to murder the Duke. It all goes wrong when Gilda turns up at the riverside bar where Sparafucile will lure the Duke with his own sister Maddalena as bait. Gilda overhears Maddalena begging her brother not to kill the handsome Duke, but to take in the first unwary stranger from the storm outside and kill them instead. She rushes into the dark bar, Sparafucile kills her, stuffs her into a sack and delivers the corpse to an unaware Rigoletto. When the jester finds his own daughter is the victim he cries out to Heaven that the curse has been fulfilled – but in the most terrible reversal of fate.

Closing the program is Act III from Aida, a timeless story of love and betrayal set against the backdrop of war. Aida and Radamès are in love. He's engaged to the princess of Egypt; Aida is the daughter of his enemy. Can they slip away in the night? Or will the Pharaoh's might come crashing down on them?

Written to commemorate the opening of the Suez Canal, Aida has since been performed countless times around the world, and has even inspired a Broadway musical. An epic score with a chilling conclusion, this concert performance of Act III features a cast of all-stars, including Denyce Graves, Michelle Bradley, Jasmine Habersham, Clay Hilley, Santiago Ballerini, Burak Bilgili, and Reginald Smith, Jr.

Atlanta audiences have watched principal oboe Elizabeth Koch Tiscione grow and develop over her career with the Orchestra. Here she plays an 18th-century delight by Alessandro Marcelloas. Also on the program is Adagio by composer Elisabetta Brusa and Ennio Morricone's "Gabriel's Oboe" from The Mission.