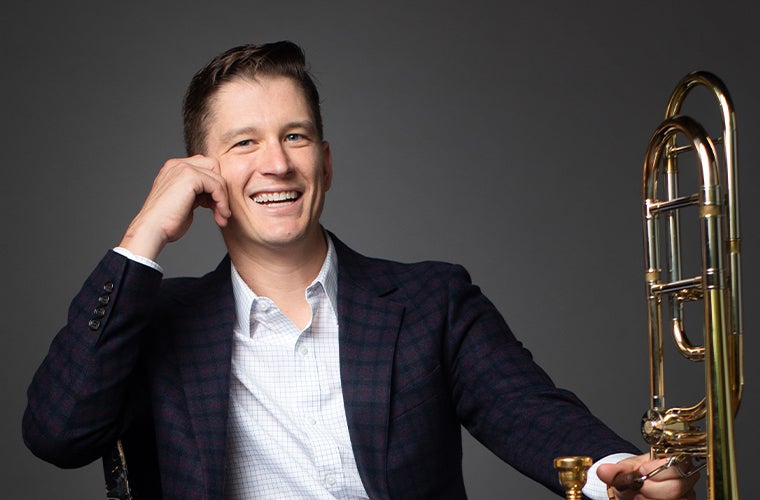 Jeremy Buckler
Trombone
Biography
Jeremy Buckler earned his Bachelor's of Music degree from the Oberlin Conservatory of Music and a Master of Music degree from the Shepherd School of Music at Rice University. His principal teachers were James DeSano, David Waters, and David Kirk. Before joining the Atlanta Symphony, he was a member of the National Symphony Orchestra for three seasons, and prior to that he was a member of the United States Navy Band, Washington, D.C., for seven years. He has performed with many orchestras throughout the United States, including the Baltimore Symphony Orchestra, Houston Symphony Orchestra, and the Washington National Opera Orchestra.
What year did you join the ASO?
2019
What's on your ASO repertoire bucket list?
Prokofiev Symphony #5
Why did you choose your instrument?
Trumpet was my original choice before starting band in 6th grade, but when it came time to rent an instrument, I could not make a buzz on the trumpet mouthpiece, and the director took that opportunity to switch me to trombone.
What do you do in your free time outside of work?
Aside from raising two young boys, I like to spend a lot of time running long distances. I've also been known to play some serious disc golf when I have the time.
Earliest musical memory?
I have a pretty clear memory of many moments all the way back to 6th-grade band. A set of memories that really stands out are all the times my Dad and I would go and watch the Dallas Symphony Orchestra perform when I was in high school.
What other instrument do you wish you played?
Classically any of the other brass instruments. I really wish I could shred on the electric guitar.
What is your post-concert routine?
No matter where I've played, it usually/hopefully involves a glass of bourbon with the low brass.
What do you wish people knew about Atlanta?
I wish people knew how bustling of a big city it really is. Also, it has a rich history of culture that I think is often overlooked.