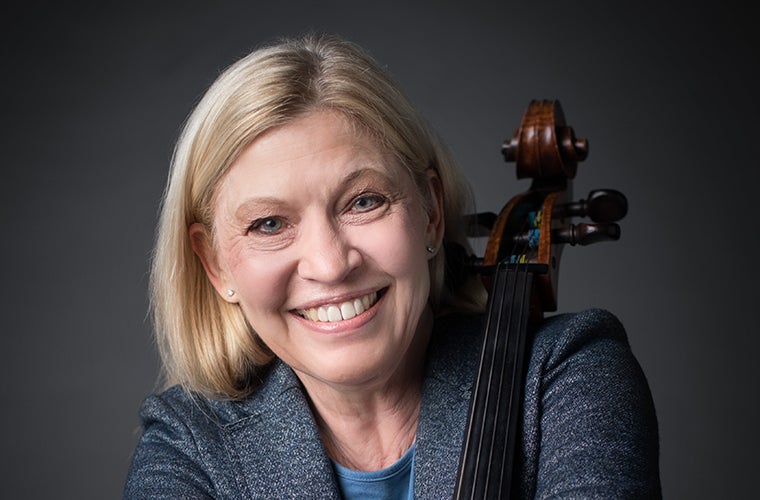 Dona Vellek
Assistant Principal Cello Emeritus
Biography
Dona Vellek joined the Atlanta Symphony Orchestra (ASO) as Assistant Principal Cello in 1981. From 2001-2007, Vellek took a leave of absence from the Orchestra and returned in 2008 as Assistant Principal Cello Emeritus.
Vellek is an active coach with the Atlanta Symphony Youth Orchestra, and has previously served as a coach for the ASO's Talent Development Program and Emory Youth Symphony Orchestra. She has served as an elected delegate for the Atlanta Symphony Associates and a committee member of the Atlanta Symphony Orchestra Players Association. Vellek also enjoys participating in a variety of the Orchestra's community engagement activities.
Vellek has been an affiliate artist with Emory University for 11 years and performed as part of the concert series at Oglethorpe University for three years. She is the founder of Sempre Sonare and cofounder of the Atlanta String Quartet. Vellek is also an active chamber musician and has performed with the Musica da Camera, Georgian Chamber Players, Atlanta Chamber Players, and others. Additionally, she is a private music instructor and a member of the American String Teachers Association.
A graduate of the New School of Music, Vellek studied with Orlando Cole of the Curtis String Quartet, was a member of the Buffalo Philharmonic and also gave regular chamber recitals at the State University of New York before moving to Atlanta.
What year did you join the ASO?
1981
Why did you choose your instrument?
When I was young, my parents took me to symphony concerts. My eyes were always drawn toward the cello section. I loved the warmth and colors of the cello.
What's the most interesting or difficult facet of your instrument?
It has such a large range of notes!
Cats or dogs?
Cats. Always rescues.
Do you come from a musical family?
Yes. My mother was a professional oboe/english horn player. She also played the organ and directed church choirs where I grew up. When my parents retired here in Atlanta she also worked at Christ the King playing piano.
Most interesting or unusual place you've played a concert?
Playing string chamber music on the street in downtown Philadelphia. We had to compete with the bagpipes, and the Hari Krishna and their cymbals.