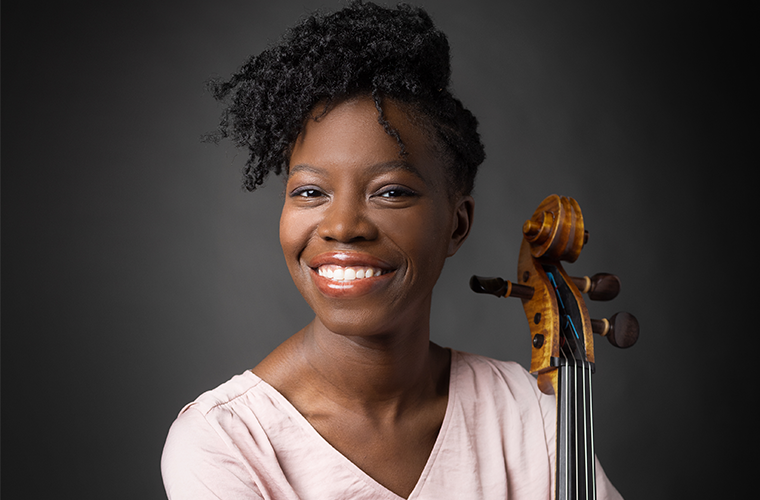 Denielle Wilson
Biography
Denielle Wilson is a musician and educator from Lithonia, Georgia, and she recently completed her first season as an acting section cellist in the Charlotte Symphony Orchestra. Her undergraduate degree was done at Northwestern University in 2017, having majored in cello performance and music education. She performed as cello fellow and co-principal in the Civic Orchestra of Chicago, and recently completed her master's degree as a diversity fellow with the Cincinnati Symphony and the University of Cincinnati's College-Conservatory of Music. Her musical mentors have included Hans Jørgen Jensen, Alan Rafferty, Wei Yu, Joel Dallow, Abraham Feder, Robert DeMaine and Nan Kimberling. She has spent summers at the Meadowmount School of Music, Bowdoin Music Festival, Aspen Music Festival and School and the Grant Park Music Festival. 
Recent solo performances include appearances with the Memphis Symphony Orchestra and the Cincinnati Symphony Orchestra. She has taught privately in the metropolitan Atlanta and Chicago areas and has been a string orchestra teacher and sectionals coach at elementary, middle and high schools in Evanston and Skokie, Illinois, and Charlotte, North Carolina. She plays in a piano trio with her siblings, Dana and Cliff Jr., and they enjoy sharing classical and religious music with their local community.  
Wilson is an alumna of the Atlanta Symphony Orchestra Talent Development Program, where she studied with ASO cellist Joel Dallow for five years.