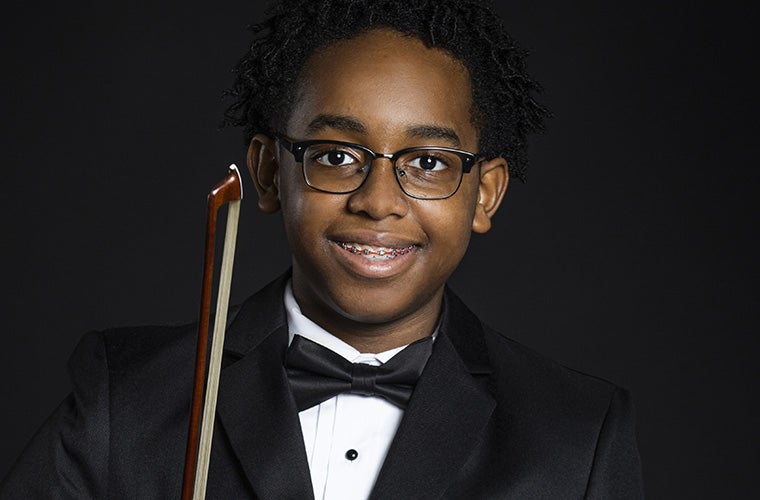 Talent Development Program
Class of 2025, Viola
Christopher Johnson
Biography
Christopher Landon Johnson is a ninth grader attending the Gwinnett School of Mathematics, Science, and Technology. At the age of eleven years old, Christopher was introduced to the viola while participating in his middle school orchestra program. His passion and self discipline often has him awaking at 5:00 AM to practice. From this focused dedication under the excellent tutelage of Dr. Marilyn Seelman, Christopher Johnson was accepted into the Atlanta Symphony Orchestra Talent Development Program in 2021.

Dr. Marilyn Seelman guides Christopher to execute the fundamentals while advancing his musicianship consistently. In eighth grade, he was selected for GMEA All-State Orchestra Christopher and the Metropolitan Youth Symphony Orchestra. Christopher has attended several summer programs, including Encore Orchestra Camp and the Franklin Pond Summer Intensive Chamber Music Program, where he studied under Jun-Cin Lin and Lachlan Mcbane.

As Christopher deliberated on what instrument in the orchestra to select as a sixth grader, he narrowed it down to violin or viola. The viola was quickly chosen because the high school violinist he listened to during the selection process played with little clarity. At that moment, he thought that the violin was naturally squeaky and lacked the richness that he desired. This assumption was quickly corrected. Now, Christopher works diligently on maximizing the richness that his instrument produces. Along with playing the viola, he loves to play basketball with his friends and watch videos such as TwoSet Violin on his phone.