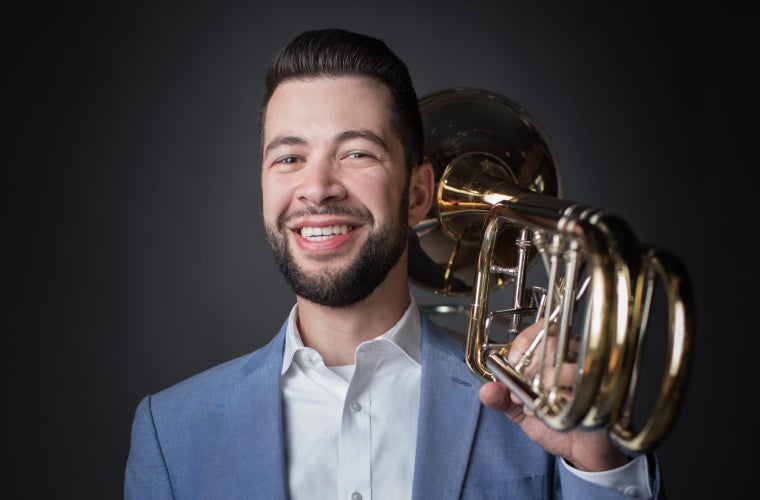 The Home Depot Veterans Chair
Brian Hecht
Bass Trombone
Biography
Brian Hecht, a native of Dallas, Texas, joined the Atlanta Symphony Orchestra as Bass Trombone in September 2013. Prior to joining the Atlanta Symphony, Mr. Hecht held the bass trombone position with the United States Navy Band in Washington, DC.
He has performed with other major ensembles throughout his career including the New York Philharmonic, Chicago Symphony Orchestra, Cleveland Orchestra, Pittsburgh Symphony Orchestra, Philadelphia Orchestra (under the baton of Simon Rattle), San Francisco Symphony, National Symphony Orchestra, Seattle Symphony Orchestra, Baltimore Symphony Orchestra, Alabama Symphony Orchestra, Naples Philharmonic, Washington National Opera, Lyric Opera of Baltimore, and the Kennedy Center Ballet.
Brian has been a featured soloist with the Atlanta Symphony Orchestra, U.S. Navy Band, U.S. "Pershing's Own" Army Band, University of Texas Trombone Choir, University of Georgia Trombone Choir, University of Central Arkansas Trombone Choir, Texas State University Trombone Choir, Penn State Trombone Choir and the Georgia Brass Band. He can be heard on several of the U.S. Navy Band's CD's and DVD's as well as the Atlanta Symphony Orchestra's CD's "Vaughan Williams: Dona Nobis Pacem" and "Christopher Theofanidis' Creation/Creator".
He has been the recipient of numerous performance awards including first prize at the Zellmer-Minnesota Orchestra Trombone Competition, Edwards Big 12 Bass Trombone Solo Competition, and the ETW's Trombone Quartet Competition. In addition, he was a finalist in three major international competitions including the ITA's Edward Kleinhammer Competition, the Donald Yaxley Competition, and the International Trombone Quartet Competition.
Brian received his Master of Music degree from Northwestern University, where he studied with Michael Mulcahy, Charles Vernon, and Peter Ellefson. He earned his Bachelor of Music degree from The University of Texas at Austin, where he studied with Dr. Nathaniel Brickens. Other influential teachers include Jon Bohls of the Dallas Metroplex area and Charles Villarrubia at UT-Austin.
What year did you join the ASO?
2013
Why did you choose your instrument?
I initially asked to play the French Horn because I thought it looked cool, but my lips were too big. Then I asked for percussion, but I couldn't keep a beat to save my life. At that point, the band director recommended trombone. I was immediately able to get a sound out, and ever since, it has been a hobby that turned into an obsession.
What's the most interesting or difficult facet of your instrument?
Counting hundreds of rests and then joining the orchestra on a really exposed, soft trombone chorale.
Any famous people in your family?
My grandfather was one of the contributing scientists that invented eye drops. He's pretty famous in my eyes.
Most memorable/favorite ASO memory or moment?
Shostakovich Symphony 7, Robert Spano on the podium. When we reached the climax of the 4th movement, the entire orchestra came together in perfect sync, both rhythmically and harmonically. It created a resonance that vibrates your whole body. We had a double trombone section that put me right in the center of the brass. It's a concert I'll never forget!